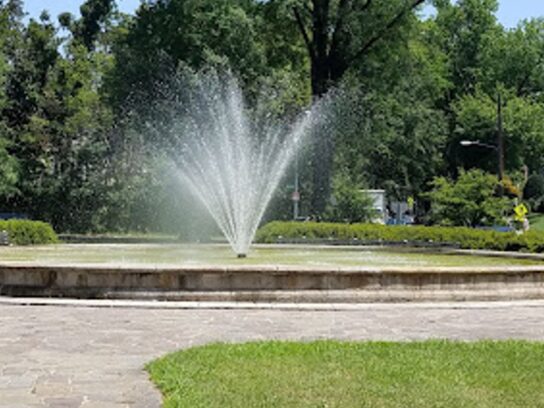 Both Maryland's U.S. Senators introduced legislation Tuesday to remove the name of Francis G. Newlands from the Chevy Chase Circle.
Sens. Chris Van Hollen and Ben Cardin said in a news release that Newlands, who was a U.S. Senator from Nevada, "held racist views and worked to keep working class, Black, and Jewish families out of the Chevy Chase community."
Newlands is memorialized on a fountain and plaque in that circle, which is partially in Montgomery County and Washington, D.C. It is located on Connecticut Avenue and Western Avenue NW in the Chevy Chase Circle.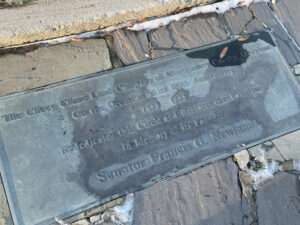 Removing Newlands' name previously was introduced in the House of Representatives by Rep. Jamie Raskin (D-8) and Rep. Elizabeth Holmes Norton (D-DC).
"For decades, racism and redlining in our nation's housing market have perpetuated a pattern of discrimination in access to home-ownership. Francis Newlands – who developed Chevy Chase – was a white supremacist who worked to actively ensure his developments were inaccessible to Black, Jewish, and working class families," according to Van Hollen.
He added, "We should not be memorializing him and the deeply harmful policies he stood for – the legacies of which are still impacting marginalized communities to this day. As we work to take meaningful action to root out the racism embedded in many of our institutions, we must also end the glorification of those who focused on promoting those policies."
Cardin agreed, noting, "Francis Newlands left a complicated legacy – he supported women's suffrage yet was an unabashed white supremacist. We can study and learn from his life and career, but we do not need a memorial to him and, by extension, the racist views he openly espoused."
Cardin said that Newlands' land company continues to operate and does support the removal of its founder's name "in the interest of building 'a more inclusive community.'" 
Raskin noted that Newlands, who lived from 1846-1917, called for the repeal of the 15th Amendment, which gave African Americans the right to vote. Newlands also "advocated racist and anti-immigrant policies, and backed efforts to deprive Black Americans, Jews, and members of other minority groups their basic human rights," according to Raskin.
The Chevy Chase Village Board of Managers thanked the federal legislators for their bill. In September of 2020, the Village adopted a resolution stating that its board of managers wanted Newslands' name removed.
The resolution states that the "Board of Managers does not want the fountain's memorial to be seen as honoring systemic racism and discrimination that is incompatible with the values of Chevy Chase Village," according to Elissa Leonard, who chairs the board.
Van Hollen and Cardin are calling for the U.S. Secretary of the Interior to remove both the brass plaque which has Newlands' name and the tablet projection that bears his name and the inscription – Francis Griffith Newlands as well as the inscription – Newlands Memorial Fountain that is carved into the upper face of the memorial.
They also said that once the items are removed, they should be offered to Newlands' descendants or be added to the Rock Creek Park museum collection.
According to the Chevy Chase Historical Society, Newlands was a "visionary real estate developer in the late 19th century." However, it noted, "Though progressive on most issues, Newlands also held and espoused racist views and beliefs that we find repugnant today."
According to the National Park Service, Newlands is most known for the Newlands Reclamation Act of 1902, which created the Bureau of Reclamation and led to the creation of dams and irrigation projects in the west. He was the founder of Chevy Chase.
It also noted, the fountain in Chevy Chase memorial that bears Newlands' name "has been a source of controversy as Newlands also argued for the restriction of immigration and voting rights for African Americans."