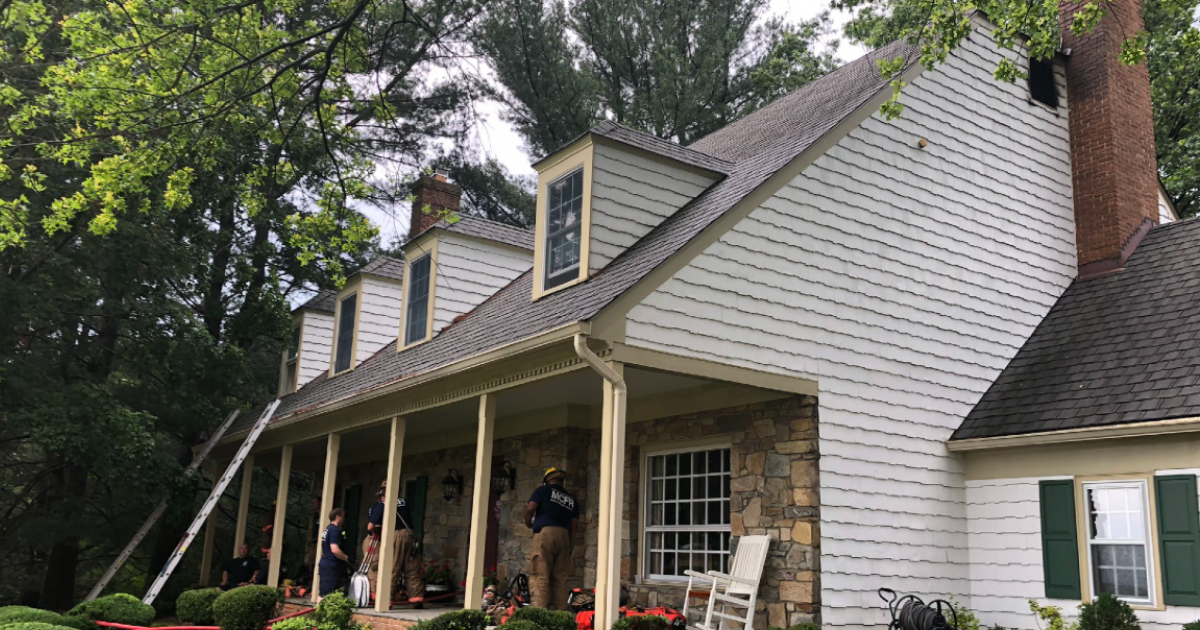 Lighting Strike Causes House Fire in Darnestown
A house caught fire after being struck by lightning in Darnestown on Monday around 4:45 p.m. It happened on the 13400 block of Haddonfield Drive near Darnestown Road, according to Montgomery County Fire and Rescue Service officials.
Although the home was occupied at the time, everyone got out safely with no injuries but the family has been displaced. Estimated damage costs are $400 thousand.
Around the same time, an intense storm swept across Montgomery County, causing numerous lightning strikes and high winds. As a result, several other homes were struck by lightning, especially in the Darnestown and Laytonsville area. MCFRS officials say the storm left downed trees and wires.
Montgomery County Fire and Rescue Service spokesperson Pete Piringer spoke to MyMCMedia about the impact of the storm.
Update – 13400blk Haddonfield Dr. off Darnestown Rd, Darnestown, How struck by lightning, Occupied house, or occupants got out no injury, Damage estimated $400k, One family displaced pic.twitter.com/affeM882xC

— Pete Piringer (@mcfrsPIO) June 22, 2020
~445p Haddonfield Dr, Darnestown, house struck by lightning, fire involved large attic & contents, damage >$400K ($200K contents/$200K structure, no injuries, pic.twitter.com/bvQwx24PoN

— Pete Piringer (@mcfrsPIO) June 22, 2020
ICYMI @MontgomeryCoMD 6/22 430p-530p (1 hr) ~35-40 calls for service, incl several (house) lightning strikes (Darnestown & Laytonsville), bricks hit gas meter, tree on house(s), wires down & transformers smoking, fire alarms, several collisions, etc pic.twitter.com/XBFAadE5AP

— Pete Piringer (@mcfrsPIO) June 22, 2020
In event of power Outage in MoCo @MontgomeryCoMD @mcfrs says Report outages: BG&E @MyBGE 1-877-778-2222, First Energy @PotomacEdison 1-888-544-4877, or PEPCO @PepcoConnect 1-877-737-2662 /NOTE: 'Live' wires down, arcing, on fire/burning/smoking or other life safety issue CALL 911 pic.twitter.com/dPF3rWF3Xu

— Pete Piringer (@mcfrsPIO) June 22, 2020