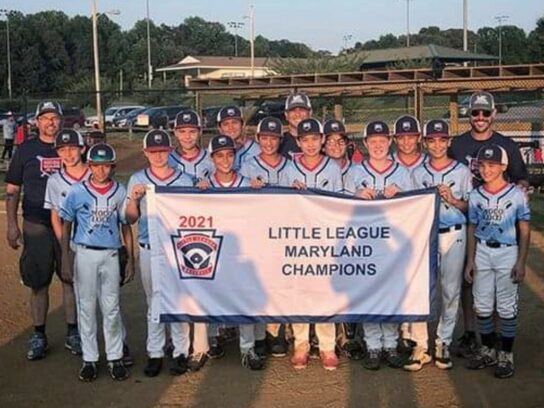 The  MoCoLoco 12U All-Stars won the state championship July 23, earning a spot in the Mid-Atlantic Region of the Little League World Series regional tournament. They defeated Berlin Little League convincingly 11-3.
The team will pack their bags and head to Bristol, Connecticut for the playoffs August 8-14.
The road to Bristol wasn't smooth.  MoCoLoco lost in the second round to Berlin 2-1. But the state tournament was double elimination so they had a second chance. The team had to win five straight games before the state championship game.
They played seven games across the seven day tournament,  outscoring their opponents with big bats 60-7 in the process.
Coach Craig Dober told MyMCMedia, "I can't say enough about the boys. I was a nervous wreck throughout the week but the boys showed no nerves. They are extremely talented on both sides of the plate, they are professional, work hard and just improved each game. Each boy on the team, one through 13, played a role in getting us this far and we look forward to continuing this journey."
The ballplayers will take the field August 9 at 10 a.m. against an as yet unnamed opponent. They will face the winner of either New Jersey @ Delaware or Pennsylvania @ Washington D.C.
Fans across Montgomery County can watch these young athletes compete on ESPN+.
MoCoLoco is just two wins away from an appearance in the Little League World Series.
Everyone at MyMCMedia congratulates the All-Stars for their success and wishes them the best of luck in Connecticut.