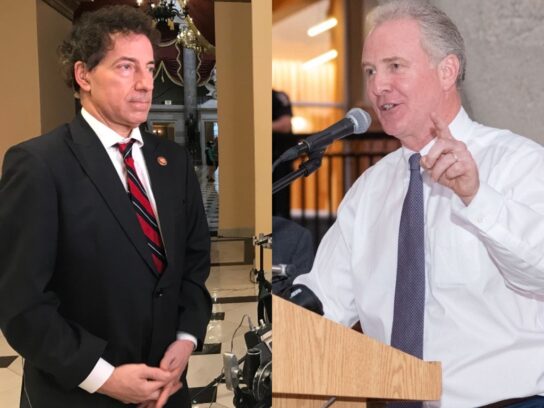 Local Democrats are showing support for a formal impeachment inquiry into President Donald Trump.
It's time for the House of Representatives to open an official impeachment inquiry against President Trump. I have thought about this deeply and regret that our country has to endure this process, but it's the only way for Congress to protect the rule of law. pic.twitter.com/eSuTr6NdU4

— Senator Chris Van Hollen (@ChrisVanHollen) September 24, 2019
Democrats have been calling for impeachment for months, but House Speaker Nancy Pelosi has rejected a formal inquiry. She gave in after a whistleblower filed a complaint over a telephone call between Trump and the head of a foreign government, later revealed to be Ukrainian president Volodymyr Zelensky. The complaint could involve Trump seeking an investigation in Ukraine against the son of former vice president, and current presidential candidate, Joe Biden.
The Trump administration has yet to release the complaint, further motivating the House to launch an impeachment inquiry.
Impeachment is the formal filing of charges against a federal official. Only the House of Representatives can impeach the president, and only the Senate can convict and remove him.
Full steam ahead on the House impeachment inquiry. The President has betrayed his office, our nat'l security & the rule of law & his Administration is flagrantly violating the federal statute compelling them to turn over the whistleblower's complaint. The lawlessness must end.

— Rep. Jamie Raskin (@RepRaskin) September 24, 2019
President Trump admitted that he illegally attempted to coerce a foreign government to interfere in the 2020 election. This is a gross abuse of power — impeachable conduct.

— John Sarbanes (@JohnSarbanes) September 24, 2019
When the history books are written about this tumultuous era, I want them to show that I was among those in the House of Representatives who stood up to lawlessness and tyranny.

Read my statement supporting impeachment: https://t.co/xppt73HN6k

— Elijah E. Cummings (@RepCummings) September 24, 2019
Rep. David Trone (MD-6th District) expressed his support of the impeachment inquiry in a press release.
"The President has abused the office of the presidency and broken our public trust. Because of this, I support the Speaker's decision to open an impeachment inquiry and do everything in our power to uncover the truth and save our democracy," the statement concluded.
Pelosi announced the impeachment inquiry Tuesday evening.
Tune in as I speak live from the U.S. Capitol. https://t.co/j6UMq4TC5u

— Nancy Pelosi (@SpeakerPelosi) September 24, 2019
Trump maintains his innocence during the impeachment inquiry process.
https://twitter.com/realDonaldTrump/status/1176848267759509504?s=20