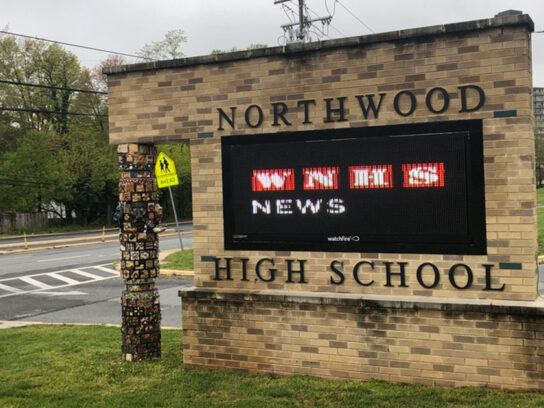 Tegan Nam of Northwood High School in Silver Spring was named one of the grand prize winners of NPR's 2022 Student Podcast Challenge.
Nam's podcast, Nervous Laughter, centers on how laughter is often used as a coping tool to deal with trauma. "You're not laughing necessarily because something's funny or because you're having a relaxed good time, you're laughing because you're anxious and you're trying to alleviate that," they said.
In November 2021, Northwood High staff received an anonymous tip about a student, which led to a search that found two rounds of live ammunition. Nam was in the classroom across the hall from where the student was escorted out, witnessing the entire encounter. "I just kept thinking like, 'I'm gonna die,'" Nam said.
Police were contacted and the student fled the campus, triggering the school into an immediate lockdown. A handgun was found in the area by a police K-9 unit. Within an hour of the shelter-in-place order, the student was taken into custody and expelled.
Throughout their experience, Nam posted satirical memes on Instagram as a way to distract from the scariness of their situation. Friends joined in, too, creating additional meme accounts as a coping mechanism.
"When we joke about tragedy, the laughter is a shield against something much more painful and much more honest and real," Nam says in their podcast. "Maybe it's worth taking the risk, all of us, to lower our shields, open our eyes, drop our plastic grins and speak the truth."