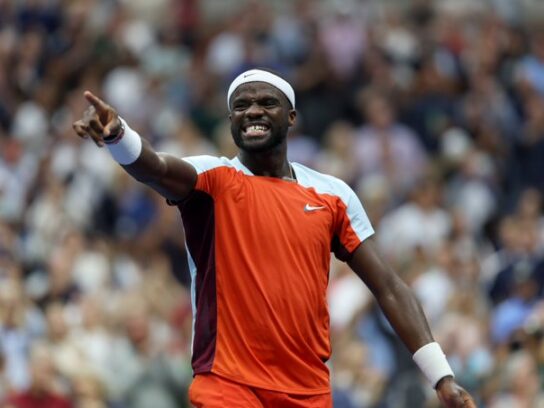 When Frances Tiafoe beat legendary Rafael Nadal in the Round of 16 of the U.S. Open Monday night, ESPN commentator and tennis Hall of Famer John McEnroe said matter of factly, "He's hit the big time folks."
The 24 year-old Tiafoe, who grew up in Hyattsville and trained at the Junior Tennis Champions Center (JTCC) in College Park, is currently ranked 26th in the world and had previously beaten some of the game's best players but the Nadal upset was a game-changer. Not only did Tiafoe beat the man with most majors in tennis history (22), he made some history of his own. By beating Andrey Rublev in his next match, Tiafoe became the first Black man to reach the U.S. Open semifinals since Arthur Ashe did it in 1972. And he did it on the court named after Ashe.
Friday night, Tiafoe, 24, takes on Carlos Alcaraz from Spain for the right to play in the U.S. Open finals on Sunday.
MyMCM talked to Tiafoe's longtime coach and mentor, Komi Oliver Akli, the Senior Director of Player Development at the JTCC, about Tiafoe's sudden rise to stardom and what it all means for the son of immigrants from Sierra Leone.
Easily the best sports story in the DMV this week is Hyattsville's ⁦@FTiafoe⁩ and his magical run to the ⁦@usopen⁩ semifinals. I asked his mentor and coach Komi Oliver Akli at ⁦@JTCCtennis⁩ to put it all into perspective. ⁦@mymcmedia⁩ pic.twitter.com/7BViqfjMHX

— Joe Yasharoff (@JYash) September 9, 2022
Have a moment Frances Tiafoe!#USOpen pic.twitter.com/egoIVDoRWh

— US Open Tennis (@usopen) September 5, 2022
Frances Tiafoe becomes the first Black 🇺🇸 man to reach a #USOpen semifinal since Arthur Ashe in 1972.

He did it on the court named after Ashe. #BeOpen pic.twitter.com/IEJtqCe2vo

— US Open Tennis (@usopen) September 7, 2022
Son of immigrants from Sierra Leone.

Father was a janitor and given a spare tennis center office to live and work in.

First coach paid for his tournament entry fees.

Turned pro in 2015 and reaches #USOpen semifinals in his 26th Grand Slam.

The Frances Tiafoe story. pic.twitter.com/ansWReaj3w

— US Open Tennis (@usopen) September 7, 2022
Photo courtesy US Open