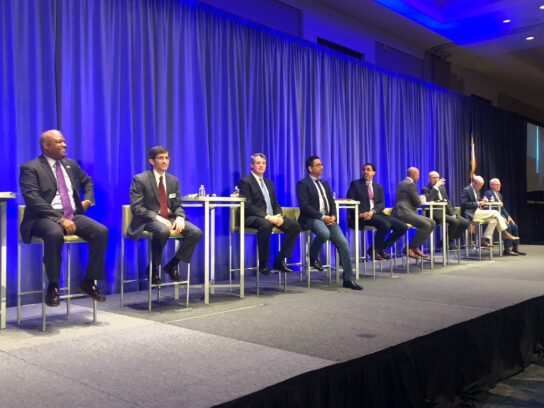 Montgomery County is the largest county in Maryland and is home to the largest school district in the state. Its next claim to fame very well may be the home – or former home – of the next governor.
Of the nine Democratic gubernatorial candidates, seven either have lived here or grew up here.
One of the four Republican candidates resides and works in the county. Robin Ficker was born in Takoma Park and lives in Poolesville. He served in the state House of Delegates from 1979 to 1982 and was a driving force behind term limits in Montgomery County.
On the Democratic ticket, only candidate Ralph Jaffee and Rushern Baker III do not appear to have ties to this county. However, County Councilmember Nancy Navarro is running with Baker for lieutenant governor. Currently, their candidacy has been suspended.
Maryland Comptroller Pete Franchot is a Takoma Park resident and served for two decades in the state House of Delegates representing Takoma Park and Silver Spring. Tom Perez also lives in Takoma Park and served on the county council in 2002 until 2006 and was its president from 2005 to 2006.
Wes Moore was born in Takoma Park but at about the age of six, his family moved to New York. He currently lives in Baltimore. John King Jr. lives in Silver Spring and his two daughters attend Montgomery County Public Schools.
Doug Gansler grew up in Chevy Chase and has lived there most of his life. In 1998, he was elected State's Attorney for Montgomery County and served in that role until January 2007.
Ashwani Jain was born in Rockville and grew up around the county, including Gaithersburg, Silver Spring, Wheaton and Potomac. He serves on the Montgomery County Sister Cities board and ran unsuccessful for councilmember-at-large during the 2018 primary election.
Jon Baron calls Bethesda home, and Jerome Segal lives in Silver Spring.
Republican candidates Kelly Schulz resides in Frederick County; Dan Cox is a state delegate serving parts of Frederick and Carroll counties and Joe Werner grew up in and around Baltimore.