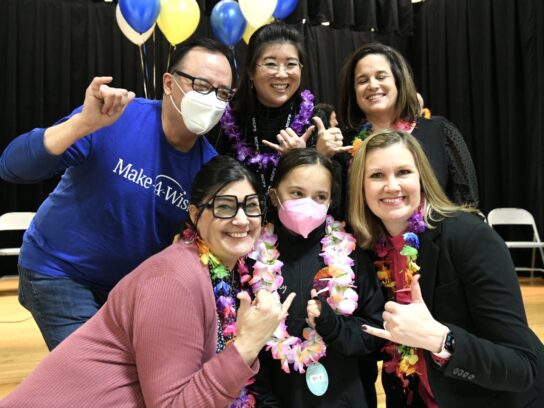 Aubrey Campbell, a 10-year-old fifth grader at Rachel Carson Elementary School, is going to Hawaii.
The Make A Wish Foundation visited the school in Gaithersburg Tuesday. In front of about 50 fifth graders, her current and former teachers and administrators and family, the young girl learned she would be going to the Aloha State.
"She was happy, but shy, as her classmates clapped and cheered for her," said Principal Mindy Reeves. "Aubrey excitedly talked to her peers and snapped photographs together. Our staff at Rachel Carson were grateful for the opportunity to be part of Aubrey's reveal."
"Make-A-Wish has the unique ability to transform a child and family's life during some of their most difficult trials. A wish helps a child look past his or her limitations, it helps a family overcome anxiety and brings entire communities together in an experience of hope and joy. That is why wishes matter. That is why we grant wishes," according to the organization's website.
The @MakeAWish foundation surprised MCPS fifth grader Aubrey Campbell with a trip to Hawaii! The surprised was revealed in front of her classmates at Rachel Carson Elementary School on Tuesday. #mcpsmoments pic.twitter.com/Jsxg3P3jp8

— MCPS (@MCPS) January 25, 2023