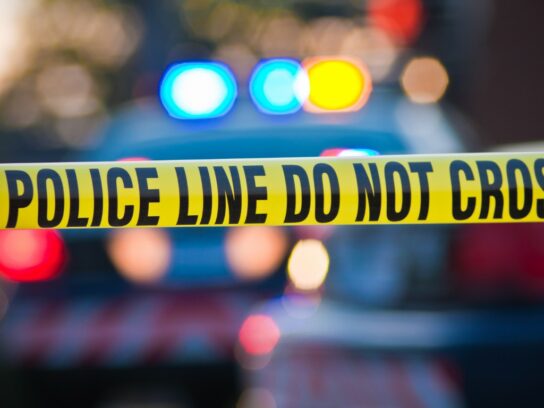 A West Virginia man was found guilty on Friday for a 2018 double-murder in Burtonsville, according to a release from the Montgomery County State's Attorney's Office.
Gregory Jones, 28, was convicted for killing Ashley Dickinson, who was 34, and Joshua Frazier, who was 29, in Burtonsville on Feb. 15, 2018. He was found guilty on two counts of first-degree murder, two counts of firearm use in the commission of a felony, and conspiracy murder. 
According to Montgomery County Police, that night in 2018 a resident walked by a parked but running car on Aldora Circle in Burtonsville. They saw Dickinson and Frazier inside, who appeared dead. The person called 911 and first responders confirmed both were deceased. The Chief Medical Examiner's Office ruled the deaths as homicides by gunshot.
Both Dickinson and Frazier were shot once in the back of the head from the back seat of the car, according to the State's Attorney's Office. Police found two 9mm shell casings inside the car and in March 2018, officers searched a West Virginia home and found a paper with Frazier's name on it, as well as Jones' social security card, birth certificate and an unspent 9mm cartridge. 
Witness interviews and phone records showed Frazier and Jones had planned to meet. Text messages show the defendant owed Frazier money and wanted to pay him back. Frazier wanted to send someone to pick it up, however Jones insisted on delivering the money himself. The defendant texted Frazier a meeting address on Robey Terrace, about a half-mile where the victims were found in the car.
Jones' sentencing is set for March 25, 2022. He faces two possible life sentences and another 40 years, per the State's Attorney's Office.
In the statement, State's Attorney John McCarthy said, "Our hearts go out to the families of Joshua Frazier and Ashley Dickinson. This should send a clear message that such senseless violence has no place in our community. I thank Assistant State's Attorneys Marybeth Ayers and Jim Dietrich for their outstanding work in this matter.  We look forward to sentencing as this defendant is facing two life sentences plus additional time. These families deserve justice, and we need to ensure the safety of the community."