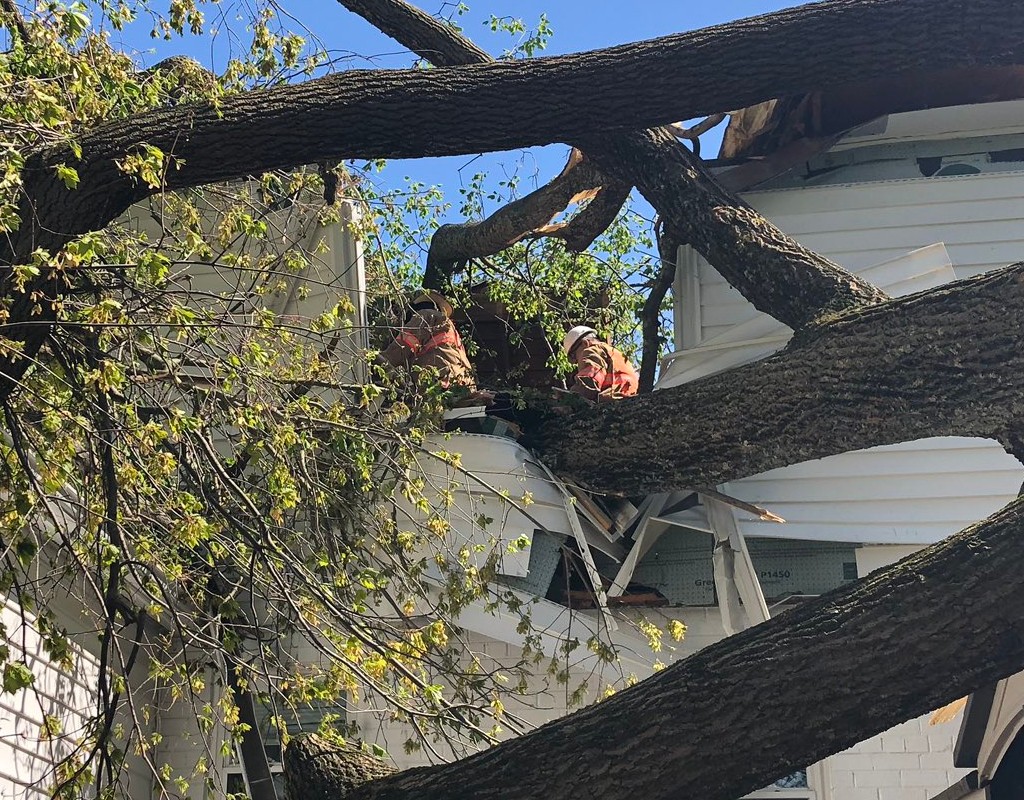 Kensington Man Trapped, Rescued After Large Tree Falls Through House
A Montgomery County resident was trapped Thursday afternoon after a large tree fell through his house.
Montgomery County Fire and Rescue responded to the incident on the 10200 block of Parkwood Drive in Kensington. A family of six – two adults and four kids – were in the home at the time, tweeted Montgomery County Fire and Rescue spokesperson Pete Piringer. A woman and the four kids got out safely, but a man was trapped on the second floor.
Technical Rescue Team was able to get the man out safely. He did not suffer any serious injuries.
4/9 (Video) @MontgomeryCoMD Technical Rescue 10200 Parkwood Dr, Kensington, ~145p, large tree crashed into 2-sty Cape Cod style house, 1 resident trapped/pinned on 2nd floor, after extrication by @mcfrs rescuers patient being lowered via ladder (@NIH TW751 monitoring from above) pic.twitter.com/AzP1KGZBV8

— Pete Piringer (@mcfrsPIO) April 10, 2020
Update – Technical Rescue- 10200blk Parkwood Dr, tree into occupied house, 1 person trapped & extricated, @MCFRS_EMIHS evaluated 1 adult, no injury (refused transport), 1 family of 6 (2 adults & 4 kids) displaced ( Red Cross assisting. ~65 FFs incl TRT Technical Rescue Team OS pic.twitter.com/GqKd0ZUyQ8

— Pete Piringer (@mcfrsPIO) April 9, 2020