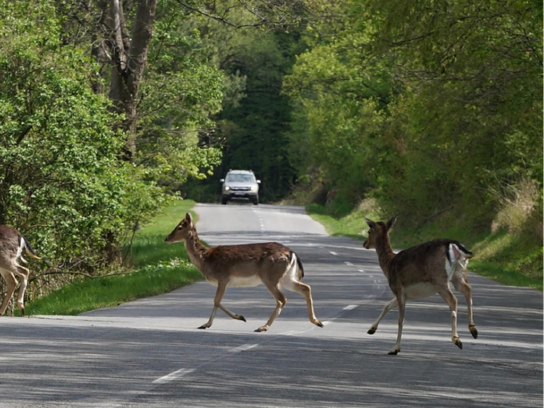 A City of Rockville pilot archery deer-culling program will close Civic Center Park and parts of Croydon Creek Nature Center for certain periods of November, December and January, the City of Rockville announced on Monday.
The organized hunts will take place in John Hayes Memorial Forest, 852 Avery Road, which incorporates all of Civic Center Park and surrounding parkland of the Croydon Creek Nature Center. The scheduled hunting dates are: Nov. 21-29, Dec. 19-27 and Jan. 9-16.
The city says the pilot will allow hunting with bows or crossbows within a strictly defined and sign-designated area of the park. Those who would like to hunt must be part of nonprofit deer-management organizations that meet stringent state and local regulations.
According to the city, the increase in the number of deer in the Montgomery County area has caused an increase in the risk of vehicle accidents, damage to landscapes and forest ecosystems, and Lyme disease. The cull is intended to begin bringing the white-tailed deer population to a more sustainable level in concert with other measures.
From 2008-2017, according to the Rockville City Police Department, 1,400 deer-vehicle collisions were reported, most often during the height of the deer breeding season in October and November. A survey of six Rockville parks showed an average of 130-160 deer per square mile. A healthy deer population is around 20 deer per square mile.
For more information, and a map of the specific areas affected, click here.