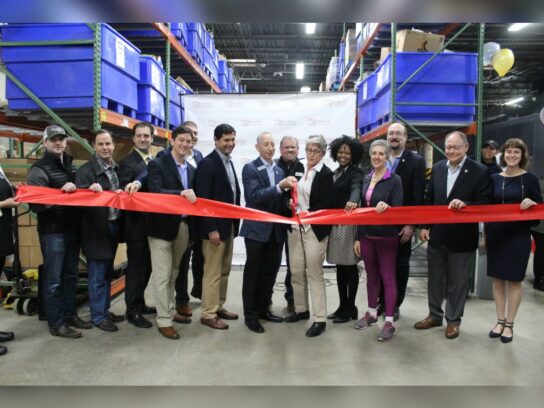 Manna Food Center, Montgomery County's largest food assistance organization, celebrated the grand openings of its new marketplace on Saturday and its warehouse on Sunday with continuous efforts to stop hunger in Montgomery County.
The market's grand opening featured a ribbon cutting ceremony followed by tours and a community block party in Silver Spring. Notable guests in attendance included Senator Chris Van Hollen, Delegate Lorig Charkoudian, County Executive Marc Elrich and County Council President Nancy Navarro.
The pantry, designed by Giant Food, is set-up as a client-choice grocery store that allows people who seek food assistance to choose their products for themselves.
The newly renovated food distribution hub at 9311 Gaither Road in Gaithersburg was transformed to better serve neighbors in need across Montgomery County. It secured $150,000 in state funding for the expansion of the freezer.
Manna Food Center will host its annual Community Food Rescue week with events designed to provide education and hands-on experience to tackle food waste and hunger all this week. 
Local chefs will join food businesses, community organizations, and volunteers to fight hunger and reduce food waste during Manna's CFR week.  
Events are scheduled as follows:  
Monday, October 21 from 9:30 a.m. to 12:30 p.m.:
An apple gleaning event at Butler's Orchard with Chef Scott Ulen from STEP, a non-profit culinary training program.
Tuesday, October 22  from 10 a.m. to 1:00 p.m.:
Cooking with recovered Food along with Chef Scott Ulen and KindWorks to turn recovered food into nutritious meals.
Wednesday, October 23 from 5:00 p.m. to 7 p.m.:
True Respite Food Rescue Happy Hour at the True Respite Brewery . Tickets cost $10.  
Saturday, October 26 from 11:00 a. m. to 12:30 p.m.:
No Waste, Big Taste: A Rescued Food Cooking Competition at the FreshFarm Downtown Silver Spring Market.
Saturday, October 26 from 2:00 p.m. to 4:00 p.m.: 
Koiner Farm Tour and Compost Demonstration at the Koiner Farm and learn about composting with local experts.