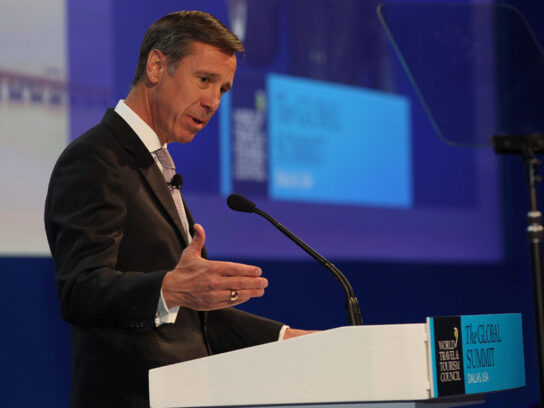 Arne M. Sorenson, president and CEO of Marriott International, died on Monday.
Almost two years ago, the company, headquartered in Bethesda, announced he had been diagnosed with pancreatic cancer and had been receiving treatment recently.
Sorenson, who lived in Chevy Chase, was the third CEO in Marriott's history and the first who didn't have the Marriott surname, according to the company's announcement. Marriott officials called him a "visionary leader." During his tenure, the company purchased Starwood Hotels & Resorts for $13 billion.
"Mr. Sorenson steered Marriott to make significant progress on diversity, equity and inclusion, environmental sustainability and human trafficking awareness," according to the announcement.
"Arne was an exceptional executive – but more than that – he was an exceptional human being," said J.W. Marriott, Jr., Executive Chairman and Chairman of the Board. "Arne loved every aspect of this business and relished time spent touring our hotels and meeting associates around the world. He had an uncanny ability to anticipate where the hospitality industry was headed and position Marriott for growth. But the roles he relished the most were as husband, father, brother and friend. On behalf of the Board and Marriott's hundreds of thousands of associates around the world, we extend our heartfelt condolences to Arne's wife and four children. We share your heartbreak, and we will miss Arne deeply."
It is with a heavy heart that Marriott International announces that our beloved President and CEO, Arne Sorenson, passed away unexpectedly yesterday after a fight with pancreatic cancer. https://t.co/jhKkyQF3SP pic.twitter.com/BpHJnWrjy9

— Marriott International (@MarriottIntl) February 16, 2021
Montgomery County Executive Marc Elrich called Sorenson "a pillar of strength in Montgomery County's business community. As the face, spirit and soul of Marriott International, Arne led the corporation through years of growth, and more recently, through the COVID pandemic. Arne's vision, drive for excellence and calm demeanor were admired by those within Marriott and the broader business community. The fighting spirit he displayed over the past few years as he battled pancreatic cancer was second to none."
In the news release, Elrich reflected on Sorenson's "infectious personality," adding, "Montgomery County is a better place to work due to the leadership he displayed at the helm of this international hospitality giant."
Council President Tom Hucker also expressed his regrets. "Thanks to his tireless dedication, he spearheaded a decade of tremendous growth for one of the biggest companies founded and headquartered in our County. His business acumen was incomparable, but above all, Arne was a devoted and caring leader."
Hucker praised Sorenson's social responsibility concerning diversity, equity, inclusion, environmental sustainability and human trafficking awareness.
Former County Executive Leggett called Sorenson "the consummate corporate leader who made an invaluable contribution to the business community, but was equally generous and supportive of so much of what we value in everyday life in Montgomery County. Through his leadership, Marriott was able to expand and grow its hospitality footprint around the globe, but he never forgot that Montgomery County was his, and the corporation's, home. He will be sorely missed."
In a tweet, Gov. Larry Hogan called Sorenson "a true visionary who did tremendous things for Marriott and the State of Maryland."
U.S. Rep. Jamie Raskin also tweeted after learning of Sorenson's death. "Arne was not only a brilliant leader but a powerful force for good in Montgomery County."
Also expressing their sorrow were Montgomery County Economic Development Corporation Board Chair Robert G. Brewer and President & CEO Benjamin H. Wu. "Mr. Sorenson was a visionary who led with intelligence and empathy, whether he was overseeing the landmark acquisition of Starwood Hotels & Resorts or responding with compassion to the impact of the coronavirus on the hospitality industry and the global community in a much-shared video message early in the pandemic."
In their release, Brewer and Wu also said, "Mr. Sorenson was not only a giant in the hospitality field, but also a respected and valued member of our local business community. When Marriott chose to expand its headquarters, the company reaffirmed its commitment to stay and grow here in Montgomery County, Maryland. Mr. Sorenson's commitment to diversity, equity and inclusion, environmental sustainability and human trafficking awareness reflected the values of Montgomery County and our community."
Sorenson was born in Tokyo in 1959. He was 62 years old.
Arne Sorenson was a true visionary who did tremendous things for Marriott and the State of Maryland. On behalf of all Marylanders, the First Lady and I extend our deepest condolences to the Sorenson family, and to the entire @Marriott organization. pic.twitter.com/MqNcXwnnBl

— Governor Larry Hogan (@GovLarryHogan) February 16, 2021
Saddened and shocked to learn of the loss of Arne Sorenson to pancreatic cancer. Arne was not only a brilliant business leader but a powerful force for good in Montgomery County. May his memory be a blessing to his grieving family, friends, and the Marriott community. https://t.co/3fKxaD8E31

— Rep. Jamie Raskin (@RepRaskin) February 16, 2021