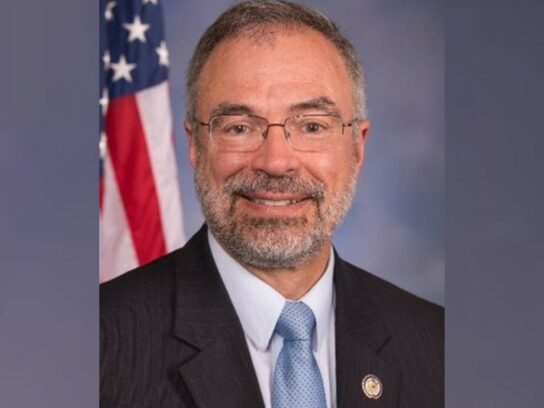 The Maryland Democratic Party is calling for Rep. Andy Harris' (R-District 1) resignation, saying he is complicit in Wednesday's chaos at the U.S. Capitol.
Harris was the only representative from Maryland to challenge electoral college results Wednesday night after Congress reconvened. Challenges failed and around 3 a.m. Thursday, Congress confirmed Joe Biden as the next U.S. president.
"Make no mistake, the Republican members of Congress who instigated this violence — including Representative Harris — are complicit in this attempted insurrection. They have blood on their hands," a statement from the state democratic party said. The statement called Harris' actions an attack on democracy and an "attempt to overturn a legitimate election in favor of a wannabe authoritarian." The party also created a petition to demand his immediate resignation.
.@RepAndyHarrisMD must resign immediately.

Representative Andy Harris has sought to undermine the will of voters across Maryland and our nation. Join us in calling for the immediate resignation of Representative Andy Harris. pic.twitter.com/UMDFQFHWMp

— 🗳 Maryland Democratic Party 🗳 (@mddems) January 7, 2021
Harris responded with his own statement, saying he will not resign.
"My colleagues and I held legitimate Constitutional concerns about how the November election was conducted in certain states and felt compelled to highlight those concerns during the formal vote count.  We did not call for the overthrowing of an election.  Joe Biden will be President on January 20th," Harris said.
The U.S. Capitol went under lockdown Wednesday as pro-Trump protestors stormed the building. Before its session was suspended due to the chaos, Congress met Wednesday to certify electoral college votes and affirm Biden as the next U.S. president. Trump has encouraged his supporters to protest what he believes is a stolen election. In the electoral college, Biden defeated Trump 306-232. As stated earlier, Congress reconvened Wednesday night and at around 3 a.m. Thursday, confirmed Biden as the next president.
My statement on yesterday's Electoral College vote count and mob violence in the Capitol Building: https://t.co/aoXFITra0A

— Rep. Andy Harris, MD (@RepAndyHarrisMD) January 7, 2021
Some delegates from Montgomery County expressed support for Harris' removal from office.
Starting tomorrow, Andy Harris should be safe and unemployed at home, along with every other member of Congress who instigated this attempted coup. https://t.co/PrPTcPEbXN

— Vaughn Stewart (@DelegateStewart) January 6, 2021
Andy Harris is a disgrace to both Maryland and Congress. He's a traitor.

He should be expelled.

— Vaughn Stewart (@DelegateStewart) January 7, 2021
Every Maryland leader who cares about the Constitution – Democrats and Republicans both – should come together to remove Andy Harris from office at the earliest opportunity. His support for overthrowing a legitimate democratic election demonstrates that he is unfit to serve.

— Delegate Eric Luedtke (@EricLuedtke) January 7, 2021
Unfit to serve. https://t.co/IO5T57UV1P

— Delegate Eric Luedtke (@EricLuedtke) January 7, 2021