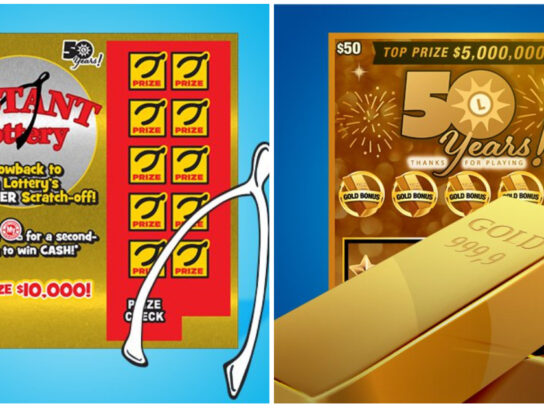 The Maryland Lottery is almost 50 years old. Millions of people have played since the first lottery ticket was sold on April 14, 1973. In celebration, the lottery will launch new games and promotions during the year.
On Monday, Feb. 20, a new scratch-off game with a whopping top prize of $5 million will be on sale. This is the largest prize ever offered by Maryland Lottery. The game, 50 Years!, has three $5 million top prizes, nine $100,000, and six $50,000 prizes. And of course, more than a million smaller prizes. The scratch-off ticket will sell for $50.
The lottery will offer another opportunity to win up to $5 million with the 50th Anniversary Cash Bash second-chance promotion. From Feb. 20 through Aug. 1, members of the My Lottery Rewards player loyalty program will receive one entry into the promotion for every $50 worth of eligible Lottery tickets entered into their accounts. Five drawings will be held from March through August with 50 prizes of $1,000 and 50 prizes of $2,500. The promotion will also select 10 finalists for an event to be held in September at the Maryland State Fair, where one of the finalists will have a chance to win up to $5 million.
The Maryland Lottery's first-ever scratch-off ticket, Instant Lottery, was launched in 1976. Starting Feb. 20, the game returns with an updated design. The top prize is $10,000 and a ticket sells for $2. Just like the 50 Years! scratch-off, non-winning Instant Lottery tickets are eligible for the Cash Back promotion, as well as five $10,000 prizes.