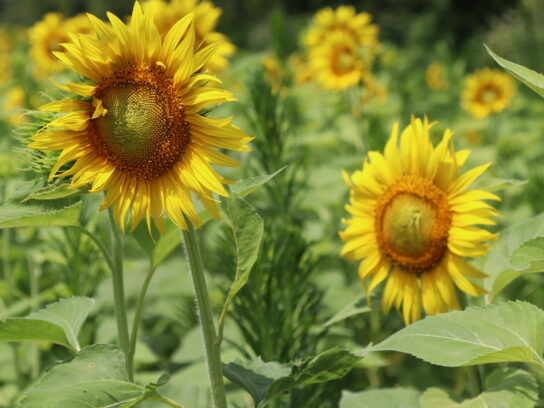 Maryland's Department of Natural Resources dedicates its annual sunflower plantings this year to the people of Ukraine. The department annually plants about 130 acres of sunflowers at 15 wildlife management areas across the state, including the McKee-Beshers Wildlife Management Area.
Sunflowers are the national flower of Ukraine, which is at war with Russia. Displaying the giant yellow flowers has become a way for people to show their support and unity with Ukrainians.
Once the flowers have dried, they provide food for mourning doves, cardinals, chickadees, blue jays, finches and other wildlife. Pollinating bees and butterflies benefit from the flower's nectar and pollen.
McKee-Beshers is on River Road by Poolesville. It is 1,971 acres.
The Maryland Department of Natural Resources (DNR) announces that it will dedicate its sunflower plantings to the people of Ukraine this spring.

Read More: https://t.co/LXos0woLCT pic.twitter.com/wgqMkoyxlh

— TheBayNet.com (@thebaynetcom) April 25, 2022