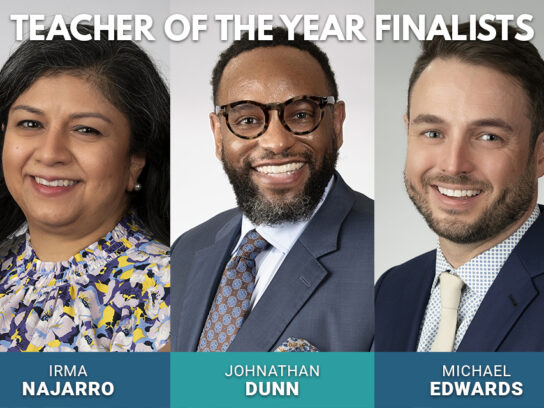 Montgomery County Public Schools (MCPS) announced its three finalists for the 2022-2023 MCPS Teacher of the Year Award by the Marian Greenblatt Education Fund. They are Irma Najarro from Washington Grove Elementary School, Michael Edwards from Julius West Middle Schools, and Jonathan Dunn from Sherwood High School.
Finalists for the Teacher of the Year Award must have six years or more of teaching experience in Montgomery County. Nominations may be submitted by staff, students, former students, parents, administrators, or the community. A committee of MCPS administrators reviews the nominations and recommends finalists. The selection committee may observe the candidates in the classroom and interview the candidates prior to the selection of three finalists. The deadline to enter nominations was Dec. 17, 2021.
The teachers, along with other MCPS employees and partners, will be honored for their extraordinary work during a virtual celebration on April 28. The winner will go on compete for Maryland Teacher of the Year.
Three finalists have been named for the MCPS Teacher of the Year! Congratulations! https://t.co/OHKF4HsJil pic.twitter.com/gkrtbMG6Fu

— MCPS (@MCPS) March 16, 2022
According to a MCPS news announcement, the three finalists demonstrate a record of high academic expectations for their students, engage students of all backgrounds and abilities, contribute to a positive school culture, and connect to the school community.
Irma Najarro, Washington Grove Elementary School Fourth Grade Teacher
Irma Najarro has been teaching for 16 years in MCPS elementary schools, both at Washington Grove and South Lake. Colleagues describe Najarro as a conscientious, patient teacher who works to recognize students' individual needs, encourages their talents and fosters their self-esteem. As an immigrant herself, she has shared her story of assimilation to a new country, and uses her past experiences to help students overcome their struggles. She has established strong communication skills with parents of her students, reaching out to them in multiple ways, including Class Dojo, emails, calls and newsletters.
One of her fourth grade students wrote, Ms. Najarro "has taught me that studying and listening [are] important to succeed in life. When I'm sad, she always asks if I'm okay, and she helps me feel better."
Michael Edwards, Julius West Middle Schools World Studies and Gloabal Humanities Teacher
Michael Edwards has taught sixth grade world studies and global humanities at Julius West Middle School since 2019.Prior to that, he taught sixth grade at Thomas W. Pyle Middle School and holds a master's degree in educational leadership. Edwards is a Paint Branch high school graduate and the son of a teacher. He coaches the Julius West junior varsity soccer team and has also served as a swim and soccer coach for other schools and clubs.
A seventh grade student wrote, "Mr. Edwards changes lives for the better. He does not shut down anyone's opinions or thoughts. He boosts students' confidence and makes them feel special when school can be challenging."
Johnathan Dunn, Sherwood High School Choral Teacher
Johnathan Dunn has been a choral teacher at Sherwood High School for nine years. In his 19 years with MCPS he also taught James Hubert Blake High School, Cabin John Middle School and Francis Scott Key Middle School. At Sherwood he teaches chorus, piano and music perspectives as well as leading the Rock n' Roll Revival production. Dunn believes that music is a way to connect, and works to make the music department a home for everyone.  He also serves as a restorative justice coach at the school and recently took on an administrator position responsible for the ninth grade.
Former student James Fitzgerald wrote, "When I had Mr. Dunn, I always left school feeling more inspired—and more self-confident."