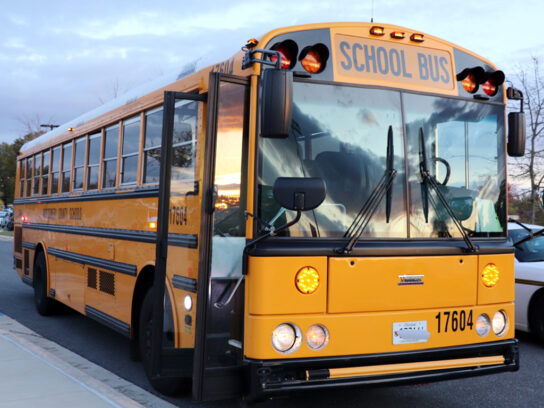 Montgomery County Public Schools will replace 326 of its diesel school buses with electric ones over the next four years, starting the largest school district project in the country to switch out combustion-engine vehicles.
The county's board of education approved a $1.3 million annual contract Tuesday with the Massachusetts-based Highland Electric Transportation Inc. for use and maintenance of the buses, as well as installation and management of charging equipment.
MCPS says the investment will be recouped over time through "decreasing vehicle prices, less expensive fuel and maintenance savings."
The total lifetime cost of the 326 electric buses is $168.7 million. MCPS plans to finance the contract with funds that would have otherwise been spent on buying and operating diesel vehicles.
"As far as MCPS and the vendor know, this is the first budget neutral, non-grant dependent, school bus fleet electrification plan available," said Superintendent Jack Smith in a Tuesday memorandum addressed to the board members. "This is the leading edge of the trend that is expected to sweep through the school bus industry."
On a typical school day, MCPS says, the current fleet of buses uses about 17,000 gallons of diesel fuel — and emits greenhouse gases. Electric buses don't release any tailpipe emissions, making them more environmentally friendly.
"MCPS has been working to increase sustainable practices in all aspects of our school system operations," Smith said in a statement. "It's critical that we be good stewards of our natural resources and do our part to protect the environment."
Twenty-five electric buses are planned to start running this fall, 61 will be acquired for the 2022-2023 school year and 120 are expected to be added in each of the two years after that.
The county is aiming for all of its more than 1,400 school buses to go entirely electric by 2035.