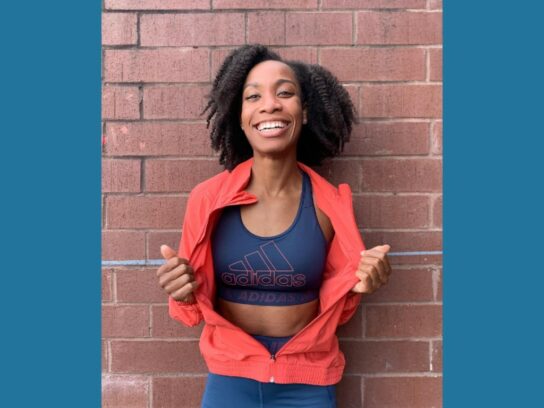 There were mornings when Thea LaFond could sense students peering through the gymnasium doors, waiting for the bell to ring so they could attend class. A few watched – some in awe – as their teacher worked her way through the weight room, pounding serious iron.
"You lift a lot of weight," one said.
Another recognized LaFond – her picture hangs on a banner at John F. Kennedy High School recognizing members of the Silver Spring school's athletic Hall of Fame.
"Isn't that your face?" another said, before revealing he was familiar with her story. "And you're an Olympian? How come you didn't say it?"
Maryland track alum Thea LaFond will compete for Dominica in the 2020 Tokyo Olympic Games.

LaFond holds the Maryland record in the women's triple jump, and competing this summer in the event will mark her third time representing her country. https://t.co/vBUaRRHv0F

— Testudo Times (@testudotimes) July 6, 2021
LaFond isn't one to boast about her accomplishments. Rather, they speak for themselves. And she will have the opportunity to write the next chapter later this month, when she competes in the Olympics in the triple jump for the second time as a representative of the small Caribbean nation of Dominica. (Her parents moved to the United States when LaFond was 5 years old; she holds dual citizenship.)
As she prepared for practice Thursday night before heading off to Tokyo in 72 hours, LaFond marveled at the twists of her career. Consider these key moments:
LaFond took up track as a Kennedy freshman only because it felt like all of her closest friends were joining the team. "Good peer pressure," she called it. Kevin Monroe, Kennedy's track and field coach at the time, steered her toward the sprints and jumps; as she improved, LaFond often would meet other athletes and track coach Robert Youngblood at the track on weekends for what they called "Flight School."
Following an incredible high school athletic career with nine individual state championships, LaFond verbally committed to attend Penn State University. She did not want to stay close to home for college and did not even apply to the University of Maryland. But she had pledged to herself not to have her parents pay for college and when Penn State offered minimal financial assistance her first year, LaFond changed her mind and decided to go to Maryland. Monroe "called Maryland and they faxed me the application. I spent lunchtime in Coach Monroe's office filling it out."
LaFond excelled in multiple-event competitions and was a college All-American , but she dreaded the training. Maryland Coach Frank Costello believed LaFond had untapped potential in the triple jump and encouraged her to pursue that discipline.
LaFond qualified for the Rio 2016 Olympic Games, but sustained a hamstring injury while training just days before the event and finished in last place. "By the time I got to Rio, I didn't feel in good shape. I didn't feel elite. … It was a mess."
Believing the same approach likely would lead to same results, LaFond went in search of a new coach. She was familiar with Muhammad Halim, a Montgomery County resident who had competed at the London 2012 Olympic Games and wanted his input. "He seemed to know what he was doing. I direct messaged him on Instagram, but he didn't respond. So I commented on every single photo he had on Instagram and he finally responded."
LaFond and Halim agreed to meet at the Wheaton Plaza Panera. Halim brought Aaron Gadson with him and suggested that LaFond use Gadson – who also was a track and field coach at Churchill High School — as her coach. They came up with a plan that included Gadson completely revamping her motion.
Thea LaFond made history when she won the bronze medal in the triple jump at the 2018 Commonwealth Games, and in so doing became the Dominica's first ever medallist at the Games. She reflects on this moment and shares about her background as a dancer.

🔗https://t.co/dNWL7jmoJa pic.twitter.com/mis7ZMhnye

— VOICED (@VOICED_01) March 11, 2021
LaFond's typical schedule would include a before-school weightlifting workout, teaching a full school day at Kennedy, then a track workout after school, often at Churchill. The results started coming in as she jumped longer and longer. She earned a sponsorship from Adidas. LaFond took extended leave from her teaching position for the spring semester in order to focus on her training. She will be one of two Olympians competing for Dominica and will be the flagbearer in the Opening Ceremony.
"Here we are and I'm leaving Sunday to go to the Olympics," LaFond said. "It's crazy how this all stems from be blowing up Muhammad on Instagram. … Kennedy has been very, very kind and understanding to this entire process. I am very thankful for that. If I didn't have a situation like that, I don't know if I could do this."
(Photo courtesy of Thea LaFond instagram)
Related posts: