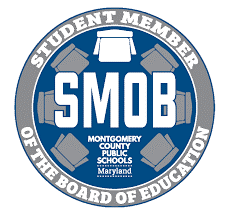 Montgomery County Public Schools (MCPS) will hold an annual SMOB (Student Member of the Board) nominating convention on Wednesday, Feb. 15 at Watkins Mill High School. During this convention, two finalists from a list of 13 candidates will be elected by delegates to compete head-to-head for this position.
MCPS announced the list of candidates on Feb. 3. On the list, there are students from 12 of the 26 high schools in Montgomery County.
The candidates are:
Andery Endessa, junior, Wheaton High
Joseph Hartlove, junior, Sherwood High
Jax Kobey, junior, Wooton High
Shayma Murrar, sophomore, Quince Orchard High
Faith Nah, junior, Poolesville High
Olivia Rayford, junior, Paint Branch High
Henry Rivera, junior, Rockville High
Samantha Ross, sophomore, Montgomery Blair High
Sami Saeed, sophomore, Richard Montgomery High
Praneel Suvarna, sophomore, Clarksburg High
Shimma Wexler, sophomore, Poolesville High
Yoseph Zerihun, sophomore, Springbrook High
The two finalists selected from the list will move forward through the next phases of the election process, where the winner will become the 46th SMOB. This student will replace the current 2022 SMOB, Arvin Kim, from Walt Whitman High School.
The convention may be an in-person event or virtually held through Zoom. All updates, announcements, and election schedules can be found on the MCPS website here.
(Photo courtesy of MCPS)