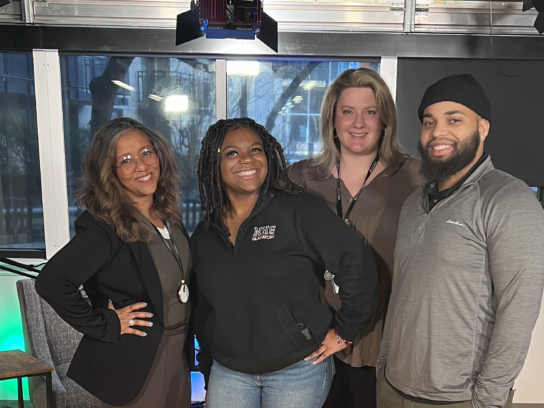 Our Education and Community Engagement (ECE) department is dedicated to creating unique media content that educates, entertains, informs, and inspires those who live and work in Montgomery County. Our team of industry professionals achieves this by offering classes, hosting MCM community events, and providing opportunities for individuals to become content creators across all MCM platforms. We also serve as a portal for local access users, producers, podcasters and other content contributors.
The ECE team is made up of passionate individuals who are dedicated to providing quality educational resources and programs to Montgomery County residents of all ages and backgrounds. We believe that everyone in MoCo should have access to knowledge and the opportunity to learn, grow and thrive in the media landscape.
Our team is made up of experts in various fields, who bring a wealth of media and education knowledge and experience to the table. We are here to serve as a resource for our community members and partners.
We are excited to connect with you and learn more about how we can support your media goals and initiatives. Together, we can make a difference and create a brighter future for all MoCo residents. Meet our team and reach out to us at ece@mymcmedia.org to let us know how we can support your media needs.
Danielle Ricks, MCM ECE Director:  At the core, I am a storyteller. As MCM's Director of ECE, I bring over thirty years of broadcast production experience to my role. I have produced for ABC, BET, Walt Disney and CBS, to name a few. I have over ten years of social media marketing experience working for nonprofits and corporations big and small. In addition to my role at MCM, I am an Adjunct Professor at my alma mater, Howard University. I have produced over 100 online training workshops and dozens of in-person training sessions nationally and abroad which had put me in the unique position and absolute honor of leading the ECE department. "I love getting the residents of MoCo as excited about how to navigate through the media landscape as I am! I strive to teach, engage, empower and innovate through storytelling."
Samantha Young, MCM ECE Education Program Manager: I've been with MCM for six months and have been loving every minute! I was a middle and high school teacher with MCPS for over ten years and have really enjoyed transitioning to this position. It's incredibly rewarding to work with community members of all ages – especially in such a creative environment. I really enjoy facilitating our Senior Smart events – it's so gratifying to watch seniors and teenagers in the community come and learn together.
Luis Garcia, MCM ECE Media Education Production Manager: "My name is Luis Garcia and I love working for MCM! They create a safe and fun environment for creatives to work and learn in. Being able to work with media while engaging with my local community is fascinating. I come across different creatives every day at MCM, they are the reason I wake up in the morning." Over my career, I've had the opportunities to work as a video editor, line producer, content creator and I am excited to bring these different areas of expertise with me to MCM"
Dee Willett, MCM ECE Production Specialist: Dee is responsible for the day-to-day operations of our ECE member volunteers. Have a show you need booked in our studios? If so, Dee is your first point of contact. Dee been with the company for 20 years and is excited to welcome our members back to our studios.
Lauren Thompson, MCM ECE Social Media Intern: I've been with MCM for six months. I had so much fun participating in the Youth Media Summer Camp last summer that asked to join the team! Being able to explore my passions, gain meaningful work experience and interact with other creatives has been my favorite part of the job! Working with social media has given me the opportunity to create, inspire and interact with our community! I'm so excited to be working part-time with ECE this summer in a paid position and continuing my work within ECE managing our social media pages!
ECE prepare students of all ages for the three steps of multi-media production from development, through production and post. Our MCM Media Academy trains learners to have the flexibility to serve as both producers and technical crew on media projects ranging from podcasting and television production to web live streaming and digital storytelling via social media. In addition, our media training classes, workshops, programs and events offer content creators wonderful opportunities to become better multimedia producers.To learn more our the Education and Community Engagement department of MCM, check us out on line here.