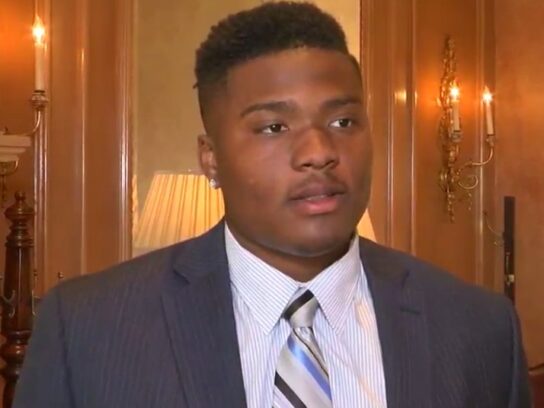 The family of Dwayne Haskins Jr. has announced that there will a memorial service at Chris Church in Rockaway Township, NJ – where Haskins grew up – on Saturday, April 23 and a vigil at The Bullis School in Potomac – where he attended high school – on Sunday, April 24 at 7 pm. Both events are open to the public.
Haskins, 24, died Saturday morning after being hit by a truck while trying to cross Interstate 595 in South Florida.
There will be a celebration of life in Pittsburgh, announced by Haskins' wife, on Friday, April 22.
A statement from Kalabrya Haskins: pic.twitter.com/JJ4tVnYyll

— Burt Lauten (@SteelersPRBurt) April 13, 2022
Haskins played for the Steelers in the 2021 season after playing his first two seasons with the Washington Commanders after being a first round pick out of Ohio State in 2019.
A vigil was held on Tuesday at Ohio Stadium, home of Haskins' alma mater, Ohio State.
A substantial crowd has formed in front of the Dwayne Haskins memorial. TBDBITL members are here with instruments as well. pic.twitter.com/FoevbdcAk4

— Jack Emerson (@jackemers) April 13, 2022
People have started gathering at the Dwayne Haskins memorial tonight at the Ohio Stadium. Candles are being placed alongside flowers and other items. pic.twitter.com/X7D8gkwEwB

— mackenzie (@_macshanklin) April 13, 2022