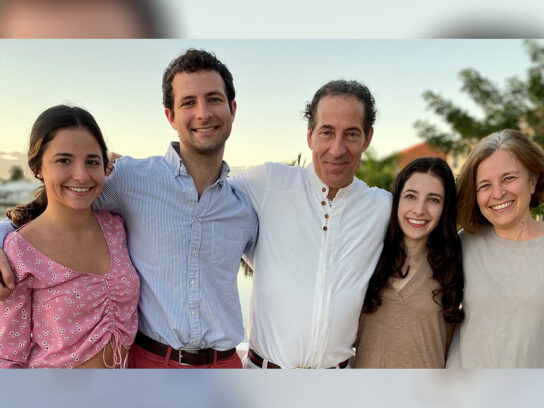 A Maryland House of Delegates' bill that aims to provide mental health resources to Marylanders was renamed Thursday to honor U.S. Rep. Jamie Raskin's 25-year-old son Tommy, who died by suicide on Dec. 31.
Sponsored by Montgomery County Rep. Bonnie Cullison, the bill would require the Maryland Department of Health, "in consultation with 2-1-1- Maryland, to make certain recommendations relating to the establishment of a certain opt-in mental health services phone call program."
A call center would be tasked with making periodic calls to people who have signed up and the program would attempt to connect people with mental health providers when requested.
"This bill is designed to help others win the battle against depression that Tommy fought so diligently and to carry on his legacy of caring and compassion for all," Cullison said when presenting the amendment to change the legislation's title.
When Speaker Adrienne A. Jones announced that the bill had been renamed "The Thomas Bloom Raskin Act," all the delegates on the House floor applauded and many of them gave a standing ovation.
The bill passed its second reading in the House on Thursday and will proceed to a third reading.
The House just accepted an amendment from @Del_Cullison to rename a new 2-1-1 support program for mental health services in honor of @RepRaskin's son Tommy. Thank you Jamie for your courage in sharing Tommy's story, it will help save countless lives. May his memory be a blessing. pic.twitter.com/JnIhohCzPW

— Delegate Jared Solomon (@jaredssolomon) March 11, 2021
An emotional moment on the House floor today as we renamed our Mental Health Services Phone Call Program the Tommy Bloom Raskin Act. My love, thoughts and prayers continue to be with the Jamie, Sarah, Tabitha, and Hannah. ❤️

— Jheanelle Wilkins (@JheanelleW) March 11, 2021
My district mate @Del_Cullison just amended a bill on mental health services to name it after Tommy Raskin.

In her floor speech, she read from Sarah and @jamie_raskin's powerful statement on Tommy's life and legacy.

The amendment passed and everyone applauded. pic.twitter.com/LeFcXWgJcw

— Vaughn Stewart (@DelegateStewart) March 11, 2021
Politics can be hard.

But there are some amazing moments.

My colleague @Del_Cullison just rose to rename a bill aimed at helping people with mental health needs the Tommy Raskin Act.

Thank you to @RepRaskin and Sarah Bloom Raskin for sharing Tommy with Maryland and the world.

— Delegate Eric Luedtke (@EricLuedtke) March 11, 2021