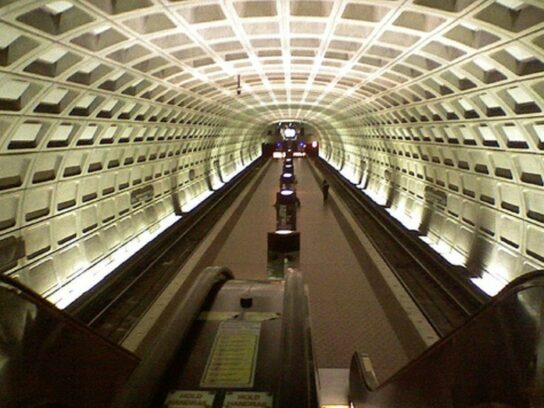 Metro announced service adjustments, including the closure of 13 rail stations, inside the expanded Inauguration security perimeter ahead of the event next Wednesday.
The following rail stations will be closed beginning Friday through end-of-service Thursday, Jan. 21 (Metro Center and Gallery Place will be closed beginning Saturday):
Red Line: Farragut North, Judiciary Square, Union Station
Yellow: Archives
Blue: Arlington Cemetery
Blue/Orange/Silver: Farragut West, McPherson Square, Federal Center SW, Capitol South, Smithsonian, Federal Triangle
Red/Blue/Orange/Silver: Metro Center (beginning Saturday)
Red/Yellow/Green: Gallery Place (beginning Saturday)
Trains will pass through these stations without stopping, according to a statement from Metro. Also beginning Friday, trains will run on a Saturday schedule: Red Line trains will run every 12 minutes and other lines will run every 15.
26 Metrobus routes will be detoured around security perimeters Friday through Thursday, Jan. 21, Metro said. Buses will operate on normal schedules, aside from Inauguration Day, next Wednesday, when buses will run on a Saturday schedule. Metro encourages riders to check its timetables for schedule information and prepare for potentially-longer rides.
Further temporary closures and detours may be enforced for security reasons, Metro said. The agency encourages riders to sign up for MetroAlerts for real-time emails and text messaging about service, and warns that online tools may not be available because the situation is ever-changing.
Last Wednesday, Jan. 6, lawmakers were taken to secure locations as a mob of President Donald Trump's supporters charged into the U.S. Capitol building. Five people died as a result of the chaos, including one Capitol Police officer.
Metro announces Inauguration service plans, station closures https://t.co/ZheSKiX7py #wmata pic.twitter.com/oJMl2vYp1o

— Metro (@wmata) January 13, 2021