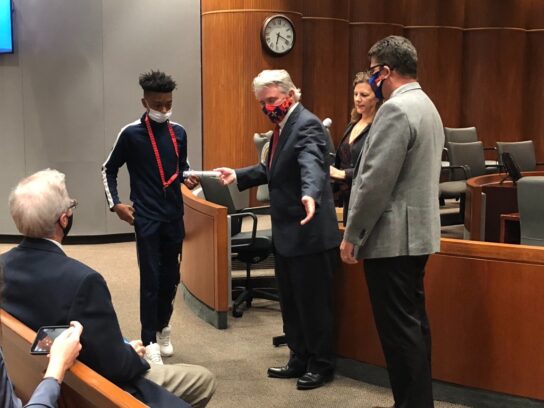 Families gathered at the Circuit Court in Rockville on Wednesday for a special ceremony. 
42 middle schoolers graduated from the Truancy Prevention Program administered by the Montgomery County State's Attorney's Office. It was the first in-person ceremony since the COVID-19 pandemic began.
Most graduates this semester are in eighth grade. Volunteers go into schools and work directly with kids to help them improve attendance and stay in school.
"I feel like a lot of it I kind of knew before, but I just needed to actually get up and do it," said Shane Gaskins, an eighth grader at Eastern Middle School in Silver Spring. 15 Montgomery County public schools participated in the program this semester. In order to graduate, students must only have four unexcused absences maximum and no more than six overall absences. 
County State's Attorney John McCarthy said the program is urgently needed amid the pandemic. He said just one adult can change a child's experience in school and give them a reason to show up.
"We believe that a meaningful adult can be the difference in any child's life," McCarthy said.