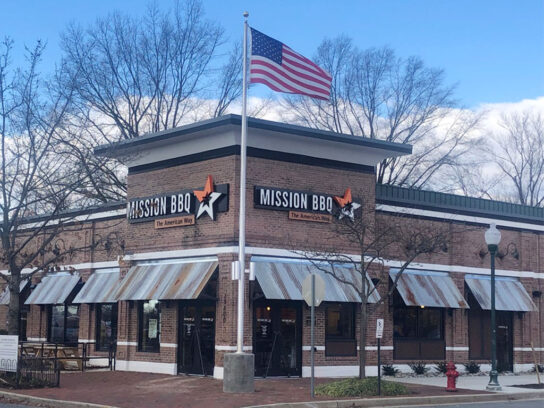 Three days before they officially open, the new Mission BBQ in Germantown is offering a promotion today that should get fans of their food very excited. Tonight is Military Appreciation Night from 6-9 pm. The first 100 people in line will get free barbecue for a year. You have to be 18 years old and must buy an American Heroes Cup. The cup costs $3.99. $2 of that goes to the USO. After today, the cup can be used in perpetuity for a $1 refill or $1 off a combo. There is no restriction on how many people from one family can win. If you have – for example – a family of four and they are all 18 or over and they are in the the first 100 people in line, all four get barbecue for a year. Not surprisingly, they are expecting a long line so if you want to be in the first 100, they advise you to show up early.
Don't miss your chance at FREE BBQ For A Year!

Come to Military Appreciation Night at our new location in Germantown, MD tomorrow night from 6pm-9pm. Be one of the first 100 to buy an American Heroes Cup and get FREE BBQ for a year!

19800 Century Boulevard
Germantown, MD 20874 pic.twitter.com/hucEq5IVsS

— MISSION BBQ (@MissionBBQ) January 23, 2020
Doors will open at noon for good on Monday. There will be a live playing of the national anthem by someone from Montgomery County who served in the military.
This will be the County's second Mission BBQ (the Rockville location was the first). It is located at 19800 Century Boulevard.
The first Mission BBQ was opened in Glen Burnie in 2011 on the 10th anniversary of 9/11 by founders Bill Kraus and Steve Newton. The goal of the first location was to support military, police, firefighters and first responders.