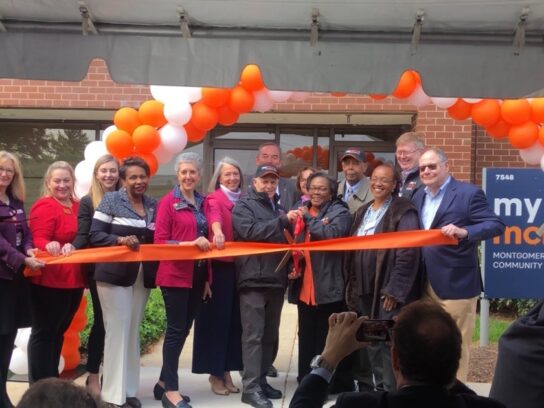 Montgomery Community Media, or MyMCM, celebrated our grand reopening with a ribbon-cutting ceremony in Rockville on Wednesday.
In March 2020, MyMCM's buildings closed for the most part due to COVID-19. Recently, our headquarters on Standish Place in Rockville underwent major renovations, and so as we reopen our doors, we present an upgraded facility. 
MyMCM has two fully-equipped television studios, a podcast studio and new workspaces. 
Sen. Cheryl Kagan, Councilmember Sidney Katz, Gaithersburg Mayor Jud Ashman, Rockville Mayor Bridget Newton and Del. Charlotte Crutchfield visited MyMCM during the grand reopening, along with myMCM board members. Catherine Provost, who attended on behalf of U.S. Sen. Chris Van Hollen, presented MyMCM with a senatorial citation. Mayor Newton presented a certificate of recognition.
In 1984, Montgomery Community Television (MCT) was founded to provide county residents with television and broadcast resources. In the 90s, MCT evolved to become Access Montgomery. In 2011, we became Montgomery Community Media. Just a few years ago in 2019, we expanded to open a Silver Spring Media Lab in Downtown Silver Spring.
Watch our ceremony livestream here.
We are officially OPEN!

Thank you to everyone who came out to celebrate with us and check out our brand new renovated studios.

Watch the full ceremony in the link below and stay tuned for the rest of #MyMCMWeek https://t.co/nhV3OBvuem pic.twitter.com/1atEwtJ6XE

— MyMCMedia (@mymcmedia) April 27, 2022
We are open for business! Big reopening celebration at @mymcmedia today that exceeded high expectations. So many people to thank for making the event so special and memorable and for attending. ⁦@MC_Council_Katz⁩ ⁦@CharCrutchfield⁩ ⁦@CherylKagan⁩ @judashman⁩ pic.twitter.com/dIwPxLhoLO

— Joe Yasharoff (@JYash) April 27, 2022
📣Spread the word!@mymcmedia has reopened in their new home at 7548 Standish Place. Check out the photos from today's ribbon cutting

🖱️Learn more at: https://t.co/wzQ2vVegIU pic.twitter.com/0wy7xjS6tZ

— Rockville Economic Development (@RockvilleREDI) April 27, 2022