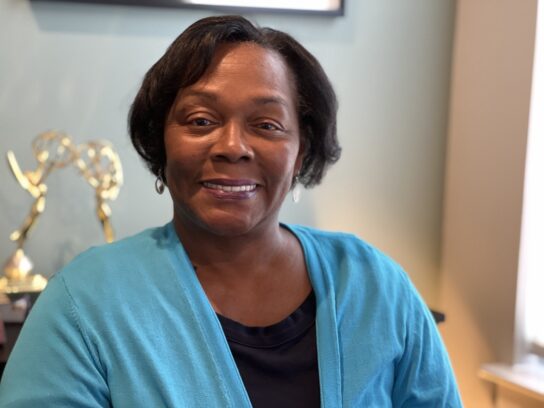 Veteran television executive Nannette Hobson announced Thursday that she is retiring as Chief Executive Officer of Montgomery Community Media in Rockville at the end of the year.
In a memo to her staff, Hobson said, "I'm excited to begin a new chapter in my life as a grandmother of three children who will all soon be living close by. As a result, it is the perfect time for me to give up the reigns of this wonderful organization and begin the next important and equally exciting chapter in my personal life."
During Hobson's almost eight-year tenure at MyMCM, the non-profit media organization opened a Media Lab in Downtown Silver Spring, added a Spanish-language content hub called Hola Montgomery, navigated safely and successfully through the pandemic and hosted a grand opening of its Rockville headquarters.
"I am proud of what we have accomplished over that time and, with you, take great pride in our many notable achievements," Hobson, told the staff at MCM.
MCM has won numerous honors in the last few years including 14 Capital Region Emmy Awards.
"This is a wonderful job, and you are the best team anyone could hope to work with," Hobson told her staff.
Hobson has more than 40 years of experience developing and executing multimedia and broadcast television content.
Prior to Montgomery Community Media, Hobson was News Director at New England Cable News, a regional 24-hour cable news operation covering six states, owned by NBC Universal.  She was also News Director at NBCU-owned WNCN (NBC-17) in Raleigh, North Carolina, for eight years.
Much of her career with NBC was spent at WRC (NBC4) in Washington, D.C., where she was promoted through the ranks from Writer/Producer to Assistant News Director during her long tenure there. Hobson also enjoyed positions as Assistant News Director at WBAL-TV and news producer at WZJ-TV in Baltimore, MD.
Hobson has received many outstanding industry awards over the years, including four local Emmys; two as producer of WRC's 6 p.m. newscast, plus the prestigious "Glenn Brenner" Emmy Award for career contributions in the Washington, D.C. market and the 2021 Community Service Award.  Additionally, she's been honored with the "Ida B. Wells" Award by Alabama State University, the "Master Communicator Award" from the National Black Media Coalition, and the "2006 Women in Business Award" by Triangle Business Journal. Hobson's news team at NECN in Boston was honored with several Emmy nominations while she led there. Most recently, Montgomery Community Media has received multiple Telly Awards and NATOA honors.
Hobson is a Hampton University alumna.  She lives in her hometown of Frederick with her husband, Lee Hobson.
Related post: