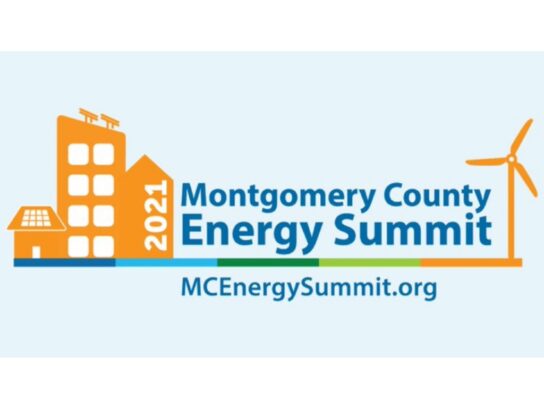 The Montgomery County Energy Summit has announced the opening and keynote speaker lineup for the 2021 event, which will run from May 4 to May 6.
The annual event, now in its eighth year, will be all virtual due to the COVID-19 pandemic. Montgomery County's Department of Environmental Protection and U.S. Green Building Council National Capital Region will co-host.
The first two days of the summit will focus on the theme of "Resiliency, from Building to Community." Remarks from speakers will revolve around the currently constructed environment and how the community can adapt to the changing climate. A few of the speakers scheduled on May 4 and May 5 will be: Montgomery County Executive Marc Elrich, Montgomery County Council President Tom Hucker, U.S. Sen. Ben Cardin, U.S. Sen. Chris Van Hollen and Congressman David Trone.
The summit will also have a keynote speaker panel on "Resilience in the Built Environment" from 9:40-10:15 a.m. on Wednesday, May 5. The group's discussion will focus on what resilience in the built environment looks like in practice.  The panel will include Maryland Secretary of the Environment Benjamin Grumbles, Maryland Energy Administration Director Mary Beth Tung, Codes for the New Buildings Institute Director Kim Cheslak. The group will answer questions like how has the pandemic reshaped future plans in creating resilient communities?
On the final day of the summit, May 6, Montgomery County's Department of Environmental Protection Director Adam Ortiz will give closing remarks before the final session: preparing for Building Energy Performance Standards.
The three-day event will also include breakout work groups and interactive brown bag lunches.
To review the full agenda and register for the Energy Summit, visit MCEnergySummit.org.
Scholarships are available for students and government professionals. To apply for a scholarship, go to  https://usgbc.wufoo.com/forms/qvgu6qc0cptzev/.
Questions about the Summit can be emailed to energy@montgomerycountymd.gov.
The 2021 Virtual #MontgomeryCountyMD Energy Summit is coming to a Zoom near you on 5/4-5/6. Join DEP and @USGBCNR for cutting-edge virtual education on #Resiliency, #ClimateImpacts, #TheBuiltEnvironment, #GreenBuilding, #PowerUpMC https://t.co/llerLbjwoq pic.twitter.com/8OjB2u4hGN

— Montgomery County Dept of Environmental Protection (@MyGreenMC) April 19, 2021