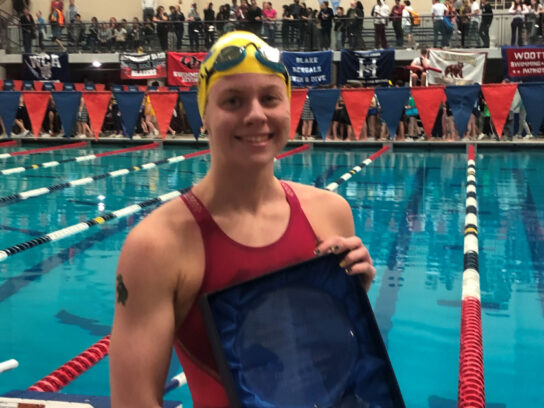 It was a decade ago that Erin Gemmell dressed up as Katie Ledecky for Halloween. Now, the Stone Ridge School senior is following in the footsteps – or rather, the swimming lanes – of one of Montgomery County's most famous athletes.
Gemmell, who has accepted a scholarship offer to swim at the University of Texas, capped her high school career by winning two individual events and helping the Gators win two relays – setting three meet records – at the Washington Metropolitan Interscholastic Swimming and Diving Championships.
For her efforts, Gemmell was named the Montgomery County Sports Hall of Fame High School Athlete of the Week.
"She's a special one," Stone Ridge Director of Aquatics Bob Walker said. "She got to swim on the American team in Australia in December. She got fast last summer. She was always fast, but all of a sudden, she got world-class fast."
Each week throughout the school year, the Montgomery County Sports Hall of Fame is partnering with Montgomery Community Media to honor an Athlete of the Week from the county's more than 40 public and private high schools.
The fall Athletes of the Week were presented with a commemorative hat and certificate at the Montgomery County Sports Hall of Fame Class of 2022 induction ceremony in December.
Stone Ridge is known for its swimming program, sending Ledecky and Phoebe Bacon to the Olympic Games. It's possible that Gemmell could be the next one up. She is plenty familiar with what it takes to succeed to that level; her older brother, Andrew, competed in the 2012 London Olympics. Her father, Bruce, was Ledecky's coach.
Andrew Gemmell specialized in long-course freestyle events. Walker said that Erin Gemmell's best event in the 200-meter long-course. With high schools competing in short-course events, Gemmell won the 100- and 200-yard freestyle races at Metros and swam legs in the 200- and 400-yard freestyle relays.
The secret to Gemmell's success?
"A lot of hard work," Walker said. "That's the only answer I have. When you are at a certain level, I don't want to say that you commit yourself more, but you take practice, sleep, nutrition more seriously and don't cut any corners. That chocolate chip cookie, or whatever dessert she fancies, looks good, but you save it for a special occasion."
(Photo courtesy Bob Walker/Stone Ridge Swimming)