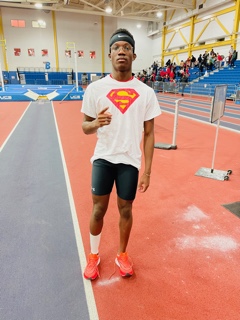 Blair High School senior Micah McKenzie missed all of the outdoor track season last spring and the soccer season this past fall after undergoing ankle surgery.
"It took a lot of time to recover," Blair track and field coach Terry Johnson said. "He wasn't cleared until just a few weeks before [indoor track] tryouts. Then it took a while to get back in shape, mentally and physically."
McKenzie geared up during the winter, winning county and regional titles and after coming in second in the 500-meter race at the Maryland 4A indoor championships as a junior, he finished the season in style. At Wednesday's Maryland 4A championships at the Prince George's Sports and Learning Complex, McKenzie won the 500 and helped Blair finish second in the 4×400 relay and third in the 4×200 relay.
For his efforts, McKenzie was named the Montgomery County Sports Hall of Fame High School Athlete of the Week.
Each week throughout the school year, the Montgomery County Sports Hall of Fame is partnering with Montgomery Community Media to honor an Athlete of the Week from the county's more than 40 public and private high schools.
The fall Athletes of the Week were presented with a commemorative hat and certificate at the Montgomery County Sports Hall of Fame Class of 2022 induction ceremony in December.
After McKenzie won the 500, he returned to the track to run the anchor leg in the 4×200 and the first leg of the 4×400 – finishes that helped the Blazers finish second in the tram competition. But it was his remarkable finish in the 500 that left an indelible mark.
"He literally had to dive across the line to win it," Johnson said. "That was big for him. He's had a heck of a season."