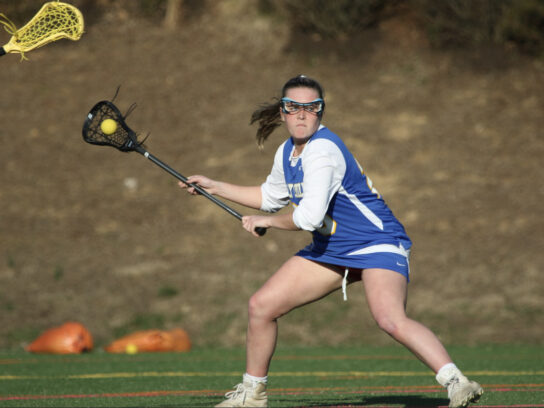 The secret to Holy Child senior Riley Peake's success on the lacrosse field is pretty simple: Lots and lots of hard work and dedication.
So far, the three-sport athlete is making the most of her last high school season. This past Tuesday, despite being face-guarded the entire game, Peake scored five goals, had two assists and controlled seven face offs as the Tigers beat Bullis, 17-10. It was the fourth time in five games that Peake has scored at least five goals.
"She just doesn't give up, it takes a lot of hustle and grit," Holy Child lacrosse coach Shelby Samperton said. "And she doesn't have an off day. She is constantly working on her game. Being at the level she is doesn't come by luck. She is truly a student of the game, whether it is on the field, watching training videos, watching our film or watching college film."
For her efforts, Peake was named the Montgomery County Sports Hall of Fame High School Athlete of the Week.
Each week throughout the school year, the Montgomery County Sports Hall of Fame is partnering with Montgomery Community Media to honor an Athlete of the Week from the county's more than 40 public and private high schools.
The fall Athletes of the Week were presented with a commemorative hat and certificate at the Montgomery County Sports Hall of Fame Class of 2022 induction ceremony in December.
Peake also is a four-year varsity member of the Holy Child soccer and basketball teams. In lacrosse, she plays attack, is a team co-captain and has scored 24 goals in five games this season.
Samperton said that Peake continually demonstrates her leadership, always arriving early to practice and working with the younger players to improve their games. Peake plans to attend Tulane University next year.
"She is truly one of the best players I've ever coached," Samperton said. "She's not flashy and she's pretty humble, but she is confident. She's smart on the field and fearless, one of the toughest competitors I've worked with. Nothing gets in her way and she always finds a way to make it work. She is back at it over and over again until she gets the results she is looking for."
Photo by Kathy Flannery/Courtesy Holy Child lacrosse