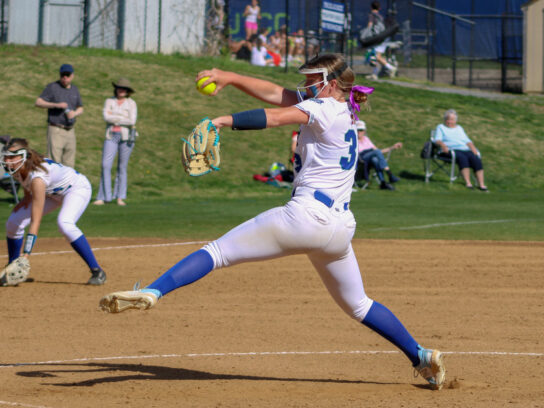 Pull up to any high school baseball or softball game and the routine is standard: Before every pitch, a coach signals from the dugout to the catcher, telling the pitcher what to throw next. It is rare for a coach to deviate from the system and rarer yet for the coach to trust a sophomore with the responsibility of calling her own pitches.
Churchill High sophomore Maggie King, a righty, is not your typical pitcher.
King plays travel softball year-round—her current club is based in New Jersey. Bulldogs Coach Andrew Sonnabend took the unusual step of naming her a team captain this spring, another testament to her maturity and ability on the diamond.
So far, King has demonstrated why she is so well regarded. This past Saturday, King struck out 15 batters and did not allow an earned run in a 5-4 win over Richard Montgomery. She followed that by setting a school record with 20 strikeouts and allowed just one earned run as Churchill edged Walter Johnson and its standout pitcher, Sami Rosenberg, 7-6 in eight innings.
"Maggie is on fire right now," Sonnabend said.
For her efforts, King was named the Montgomery County Sports Hall of Fame High School Athlete of the Week.
Each week throughout the school year, the Montgomery County Sports Hall of Fame is partnering with Montgomery Community Media to honor an Athlete of the Week from the county's more than 40 public and private high schools.
The fall Athletes of the Week were presented with a commemorative hat and certificate at the Montgomery County Sports Hall of Fame Class of 2022 induction ceremony in December.
King enjoyed a strong freshman season and has elevated her performance so far this spring. She has started each of Churchill's first seven games, posting a 5-2 record with 84 strikeouts in 41 innings—more than two batters per inning—and holding opponents to a .182 batting average.
"What makes her a good pitcher is that she is really smart," Sonnabend said. "She throws mid-60s with five pitches:curveball, fastball, changeup, rise and screwball. Her dream is to play Division I softball and I don't see why she won't be a Division I pitcher. We are the Churchill Bulldogs and she is a bulldog in the circle."