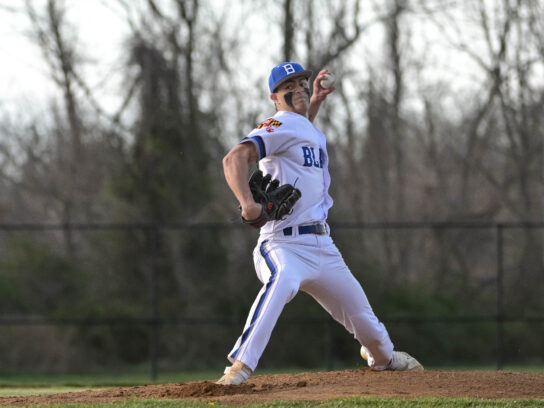 With every passing game, it seems, Blake High senior Tanner Sanderoff just keeps taking things to another level. The lefthanded pitcher and outfielder, coming off a terrific junior year, has turned in one strong performance after another.
There was the game against neighborhood rival Sherwood, where Sanderoff doubled and scored in the first inning, later added a three-run home run and came on in relief to get the save as the Bengals earned a 7-6 victory, their first over Sherwood in 11 years.
This past week, Sanderoff scored the game-winning run in a 2-1 win over Bethesda-Chevy Chase and went 3-for-5 with a two-run homer and earned the win on the mound as Blake beat Damascus, 9-6.
"We try to push all the kids everyday, he really responds to it," Blake co-coach Lucas Lichtenberg said. "He wants to be great. He wants to be in those big moments. He doesn't take any moment for granted. Game in and game out, he gives it everything he can. Just a great kid really."
For his efforts, Sanderoff was named the Montgomery County Sports Hall of Fame High School Athlete of the Week.
Each week throughout the school year, the Montgomery County Sports Hall of Fame is partnering with Montgomery Community Media to honor an Athlete of the Week from the county's more than 40 public and private high schools.
The fall Athletes of the Week were presented with a commemorative hat and certificate at the Montgomery County Sports Hall of Fame Class of 2022 induction ceremony in December.
Sanderoff, who will play next year at Hofstra University, has been one of the county's best players throughout this spring. In his third season on the Blake varsity, he is batting .548 with eight doubles and five homers, having scored 27 runs and driven in 27 more runs. He also has stolen 11 bases. On the mound, he is 4-0 with two saves and a 1.95 earned run average, having struck out 50 batters in 28 2/3 innings.
"He's been well known, but now he is starting to get the attention he deserves, honestly," Lichtenberg said.
(Photo courtesy Tim Ho)