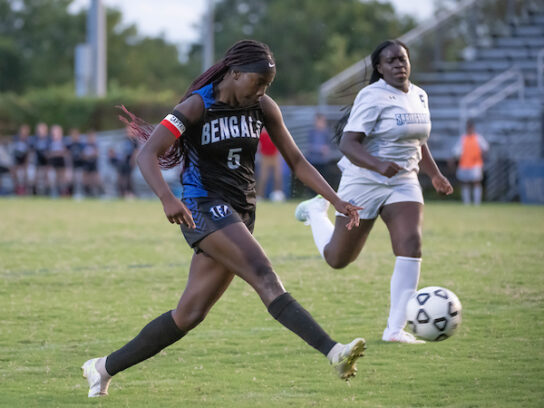 Senior Mame Diop has made her mark at Blake High School.
She was named the Montgomery 4A North Division Defensive Player of the Year in basketball last winter, helping the Bengals win a regional title and advance to the state tournament. In the spring, as a track and field rookie, she set a school record in the triple jump, finishing second the Maryland 4A championship to go along with a fourth-place finish in the long jump.
Her fellow students voted Diop the school's Student Government Association for this school year.
And this fall, Diop is cementing her place in the Blake soccer record books. She scored five goals in last week's 7-3 victory over Paint Branch to become the Colesville school's career scoring leader. For her performance, Diop was named the Montgomery County Sports Hall of Fame High School Athlete of the Week.
Each week throughout the school year, the Montgomery County Sports Hall of Fame is partnering with Montgomery Community Media to honor an Athlete of the Week from the county's more than 40 public and private high schools.
With 13 goals (and two assists) this season, Diop now has 34 career goals, helping the Bengals to a 4-3 start this season.
"Mame is a very competitive athlete and person and has very high standards for herself," Blake girls soccer coach Jenna Essenmacher said. "She wants to best out of herself always and strives for excellence in everything. She has a wonderful personality: She is optimistic, works hard and is a great communicator with both adults and her peers."
Diop's ability to lead stood out to Essenmacher last year. Watching Diop take control at preseason workouts and practice, Essenmacher took the unusual step to name the then-junior captain for the entire program, junior varsity and varsity.
"I had never done that before," Essenmacher said. "She was getting all 40-plus girls together and instructing them in a positive way, leading all the players in the program. Which she still does. She is outstanding leader. On the field, along with that leadership, she has a great ability for winning a through ball, beating a player 1-on-1 and putting the ball in the back of the net."
(Photo by Tim Ho)