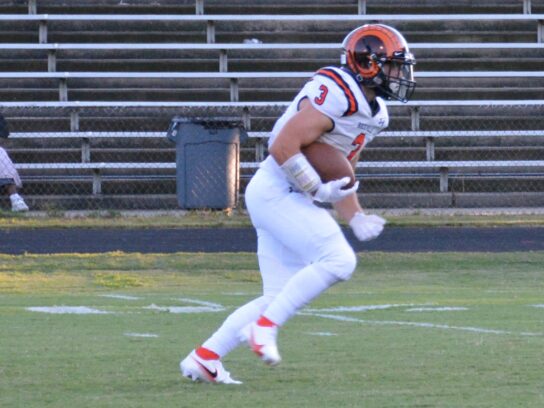 Macky Langsam never played football before high school. Actually, he didn't even join the Rockville High football team until a few weeks into his freshman year.
He was in an advisory period being administered by Rams football coach Jason Lomax and bragged that he could do a full backflip. Lomax shook his head in disbelief, looking at Langsam and figuring the teenager was all talk – until, in between the tables in the science lab, Langsam easily nailed the acrobatic feat.
"It was amazing," Lomax said. "I couldn't believe he had that much explosion in his legs. So I introduced him to our JV football coach."
And that's how Macky Langsam became a football player.
Langsam's sophomore season was mostly lost to Covid-19 – MCPS teams played just two games that spring. But when he returned as a junior, Langsam was a different player, helped by a relentless attitude in the weight room and running. He became a team captain and a second-team all-county linebacker. He injured his knee in the season's next-to-last game, but worked hard to be ready this fall.
And while he missed the season's first game after testing positive for Covid-19, Langsam has been on a roll ever since. This past Friday, Langsam rushed 31 times for 305 yards and four touchdowns as Rockville rallied to beat Springbrook, 28-21.
For his performance, Langsam was named the Montgomery County Sports Hall of Fame High School Athlete of the Week.
Each week throughout the school year, the Montgomery County Sports Hall of Fame is partnering with Montgomery Community Media to honor an Athlete of the Week from the county's more than 40 public and private high schools.
"He's a leader and does everything I ask of him," Lomax said. "He worked so hard all offseason to rehab his knee, knowing this was his chance to be the guy. He's one of the hardest-working kids I know."
Langsam scored all of Rockville's touchdowns Friday, the last one on a 20-yard run with three minutes left to cap the comeback. The triumph didn't come without a scare: Early in the third quarter, trailing 21-7, Langsam took a hit to his surgically-repaired knee and left the game.
Lomax worried that the Rams' prospects for a successful season might have taken a big hit, but a few minutes later he was stunned to learn Langsam was ready to go back in the game.
"He went in and was running like a rampaging monster," Lomax said. "I didn't call another pass play, just said give the ball to Macky and get out of the way."
Rockville (3-2) faces a tough challenge this week when it visits undefeated Blair, which has outscored opponents 184 to 51 this season.
Photo by Jen Lomax