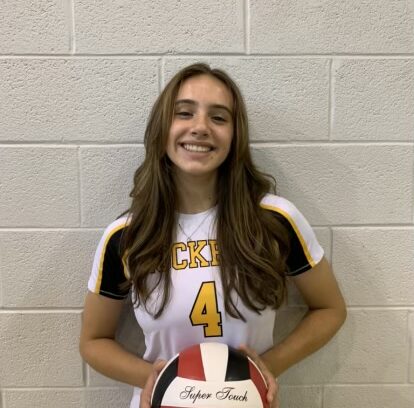 Richard Montgomery girls' volleyball is one step away from winning a state title.  The Rockets play Leonardtown for the 4A state championship Saturday. at 6:30 p.m. at Harford Community College. RM is led by junior setter/right hitter Ema Djordjevic. The lefty 6-footer can play any position according to her head coach Gretchen Barber-Strunk, in her 11th season at the school.
Barber-Strunk said she's never had a player like Djordjevic. "Her knowledge of the game is insurmountable" she told MCM.
Each week throughout the school year, the Montgomery County Sports Hall of Fame is partnering with Montgomery Community Media to honor an Athlete of the Week from the county's more than 40 public and private high schools.
This season, Djordjevic has over 200 kills and over 500 kills and 500 assists in her career. She is a 2-time first team all-County player and last year was named first team All-Met. She is a leading contender for player of the year in Montgomery County.
And she's a stellar student according to her coach and one of her biggest fans. Barber-Strunk said "She's just a great kid. She's humble. She's just incredible,"
Photo courtesy Richard Montgomery High School Athletics