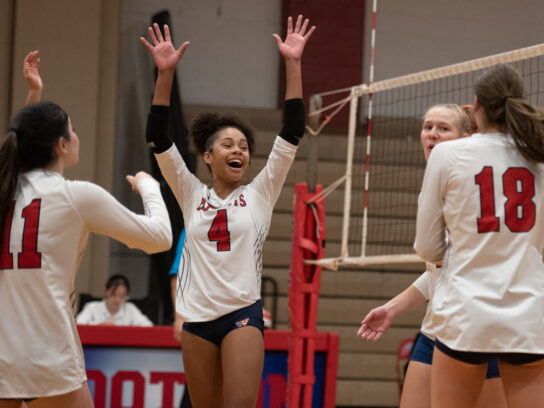 Lauren Smith might not fit the profile of a standout outside hitter on the volleyball court. She isn't the tallest, standing 5 feet 7. And her team plays an untraditional system – Coach Mary Malinauskas says that every player needs to be able to hit from every position.
"Which is a little unusual," Malinauskas said.
What is unmistakable, however, is the impact that Smith makes for the Wootton High School volleyball team. It was evident once again this past Tuesday as Smith, a junior, tallied 18 kills, five digs, two blocks and one ace as the undefeated Patriots beat previously undefeated Magruder, 24-26, 25-21, 25-1, 25-23, in the Montgomery County championship game.
For her efforts, Smith was named the Montgomery County Sports Hall of Fame High School Athlete of the Week.
What is the key to Smith's success?
"Well, she can jump," Wootton Coach Mary Malinauskas said. "And she's very smart and very steady. The girls trust her, so she gets a lot of attempts. I wish I could take credit for it, but she just knows what to do.
"She is one of the rare athletes who can adjust herself without being coached," Malinauskas said. "She pays attention to what she is doing and figures out how to be more successful. She is completely aware of what she is doing."
It has been a special season for Wootton (15-0), which Monday will host either Bethesda-Chevy Chase or Richard Montgomery in a Maryland 4A West Region semifinal. The Patriots won the regional title last season and advanced to the Maryland 4A semifinals for the first time since 2007. Wootton's seven state titles are the most of any Montgomery County school, won in seven consecutive seasons from 1983 to 1989.
"That's been a goal of ours," Malinauskas said. "We're working on it. We haven't broken through at the state level yet."
Photos by Erik Kleinbussink