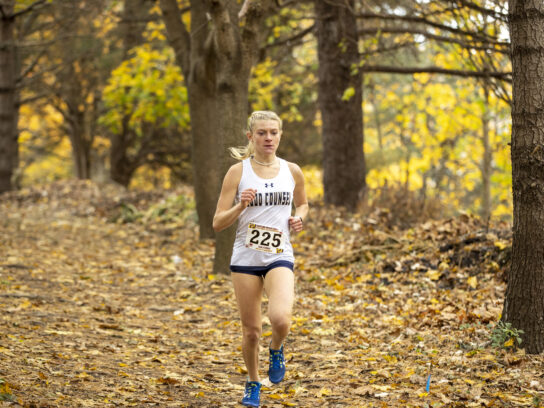 MyMCM has partnered with the Montgomery County Sports Hall of Fame to feature high school athletes from all across the county every week. This week's featured athlete is cross county runner Leah Stephens from Good Counsel High School in Olney.
As Leah Stephens finished the first mile at this recent Hood Invitational, Good Counsel cross country coach Rich Hiegel looked at his stopwatch: 5 minutes 25 seconds.
"She was more than 20 seconds ahead of the field," Hiegel said. "That's an excellent time for an individual mile, let alone a split at a three-mile distance."
As has become the norm whenever the Good Counsel cross country team competes, Stephens got out to a fast start and never looked back. The senior standout finished in a meet-record 17:50, more than one minute ahead of the second-place finisher and lowering her own school record.
For her efforts, Stephens was named the Montgomery County Sports Hall of Fame Athlete of the Week. Each week throughout the school year, the Montgomery County Sports Hall of Fame will honor one student-athlete from the county's more than 40 public and private high schools.
"She is truly focused and driven," Good Counsel Athletic Director Steve Howes said. "Leah's work ethic in practice is one that you can tell she does not take moments off. And to watch her in competition, the way she blows away the competition at times, it's just amazing the level at which she is able to perform."
The Washington Post named Stephens a first-team All-Met in cross-country and outdoor track last season as she began rewriting the Good Counsel record book. In cross-country, she won four individual championships, including the Washington Catholic Athletic Conference and Maryland Private Schools titles. Stephens also won three races at the WCAC outdoor track championships and was named the meet's MVP.
"To be a good distance runner, the formula for success is building your aerobic engine year after year," Hiegel said. "She has been doing this since grade school and can put in more miles than a normal high school athlete. She has a really high standard for her work. And she's a fierce competitor. She becomes a different person when she steps on the cross country course."