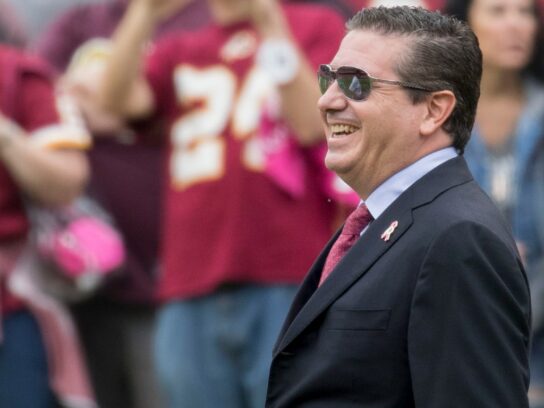 The greater Washington D.C. area is home to many things, including politicians, sports teams, and bad traffic.
It's also home to some of the wealthiest people in the country, five of whom live in Montgomery County.
Announcing the #Forbes400 2020: the richest people in America https://t.co/PYp7L4Em91 pic.twitter.com/Vvi7XitC4f

— Forbes (@Forbes) September 8, 2020
The five Montgomery County residents listed among the richest people in the country on this year's Forbes 400 list include:
Dan Snyder, who ranks 327 on Forbes' list, up from last year's 333 ranking. The 55 year old Washington Football Team owner, a college drop out who made his fortune in marketing, is worth $2.6 billion. He lives in Potomac.
Bernard Saul, II ranks 260, down 10 places from last year's list. Saul, who inherited his grandfather's property management firm B.F. Saul Company and turned it into a major real estate company, is worth $3.2 billion. He lives in Chevy Chase.
David Rubenstein, worth $3.4 billion, ranks 238, which is up 37 positions compared to last year. Rubenstein, 71, lives in Bethesda and is the Co-Chief Executive Officer and Co-founder of the Carlyle Group. He donated $18.5 million to restore the Lincoln Memorial in 2016.
Ted Lerner and family ranks 139, down 11 spots from 2019. Valued at $4.8 billion, Ted Lerner made his fortune in real estate. He is also the former principal owner of the Washington Nationals baseball team, a team that his family still owns. Lerner, 94, lives in Chevy Chase.
Mitchell Rales tops the list of the five Montgomery County billionaires, ranking 110, up 44 places compared to last year. Rales, 64, is a board member of the Fortive Corporation, an industrial technology conglomerate company. He is also chairman of Danaher's executive committee, a company he and his brother founded. Rales developed and financed the Glenstone Museum in Potomac. Rales is worth $5.6 billion and lives in Potomac.