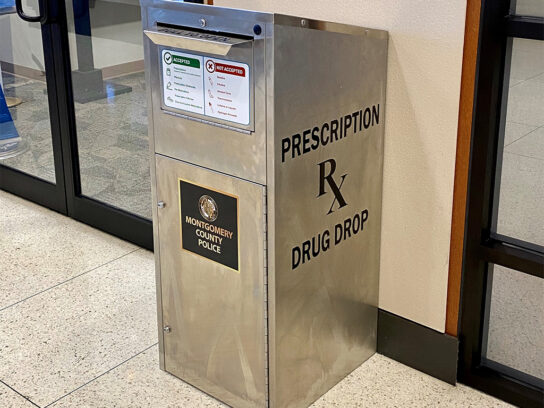 Montgomery County residents  have a safe and anonymous way to dispose of unwanted or expired prescription drugs on Saturday, Oct. 23 as part of the county's participation in National Prescription Drug Take-Back Day.
From 10 a.m. to 2 p.m., residents can stop by any of the county's seven National Take-Back Day locations in Bethesda, Silver Spring, Wheaton, Germanton, Chevy Chase, and Gaithersburg. The county also has nine other permanent locations available where residents can safely get rid of medications year-round with no questions asked.
Need to remove unwanted or expired prescription drugs from your medicine cabinet? Join the effort this coming Saturday with National Prescription Drug Take Back Day! pic.twitter.com/fydwh0gbcu

— Montgomery County DHHS (@MoCoDHHS) October 19, 2021
According to the Montgomery County Department of Health, only prescription drugs and over-the-counter medications will be accepted.  Liquids, needles, empty pill bottles, inhalers, and ointments will be refused.
Officers will be staffing collection boxes at take-back locations, according to Montgomery County Police. However, all disposals are completely anonymous. The medications returned will be incinerated according to federal and state environmental guidelines.
#DYK many people who misuse Rx meds, get them from friends, family, & acquaintances. Help others around you & properly dispose your unneeded medications. Do you know the proper way to dispose your meds? Take the quiz! #TakeBackDay #TipTuesdayhttps://t.co/mncX5Epzdw pic.twitter.com/zaQlv13zZq

— DEA HQ (@DEAHQ) October 19, 2021