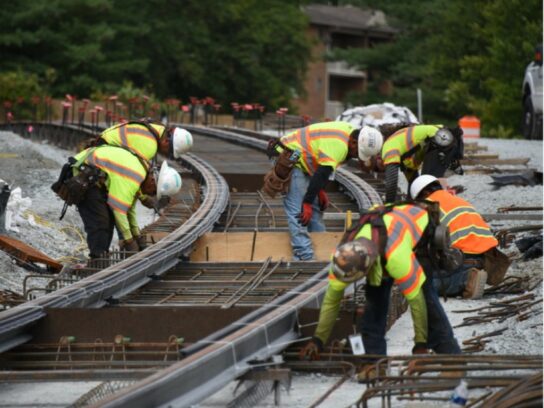 County Council President Sidney Katz and Council Vice President Tom Hucker urged Maryland officials to resolve ongoing conflicts with purple line contractors in a statement released Thursday. 
The announcement comes as Purple Line Transit Partners, the company tasked with constructing the more than $2 billion light-rail project, announced that it would lay off at least 700 project employees within the next two months. In recent weeks, tensions have heightened between the state and company, which threatened to consider ending the partnership amid ongoing contract, cost and delay disputes.
"The State of Maryland has an obligation to work with our communities to ensure that this project is completed," the joint statement from Katz and Hucker reads. "Moreover, it would be unconscionable for the Purple Line Transit Partners to walk away from this critical project at this advanced stage."
"It's clear that the state and concessionaire have had irreconcilable differences for a long time, but a complete divorce and upending of this project is unacceptable," Montgomery County Council member Evan Glass said.https://t.co/Zi8ETh300n

— Evan Glass (@EvanMGlass) June 25, 2020
Since its inception, Montgomery County taxpayers have invested more than $225 million into the roughly 16-mile project that will link  Prince George's and Montgomery counties by train and promote economic growth across the region. Environmental approval delays and legal issues have prolonged the project, initially slated to open in March 2022.
Katz and Hucker are urging Gov. Larry Hogan, the Maryland Department of Transportation (MDOT) and the Maryland Transit Administration (MTA) to explore legal options against the company in the event that an agreement cannot be met. They are also asking officials to "reengage in negotiations" with initial firms that lost the contract bid.
"Maryland leaders must ensure that construction continues based on the agreed upon resources, and they must deliver the Purple Line that was promised to our residents," Hucker and Katz said.