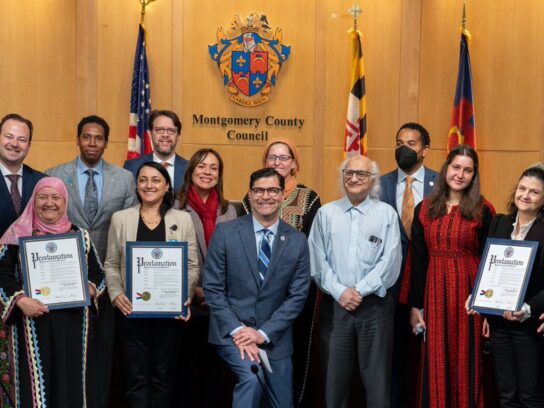 The Montgomery County Council recognized Arab Heritage Month during April, according to the Council's Twitter page.
At the most recent Council meeting, Council President At-Large Gabe Albornoz presented a joint proclamation with the Office of Community Partnerships celebrating how Arabs contribute to Montgomery County and the United States.
"We here in Montgomery County are proud of our inclusive community, and we celebrate months like this together, holistically, as one," Albornoz said during the meeting.
According to the City of Gaithersburg's website, the United States is home to more than 3.5 million Arab Americans who trace their ancestry to 22 countries stretching from North Africa in the west to the Arabian Gulf in the east. Maryland has one of the fastest-growing Arab populations in the country.
To watch the proclamation, go to the Council's YouTube page.
Montgomery County is a welcoming community that is strengthened by the richness of cultures, skills, values & knowledge in our multicultural community. The Council presented a joint proclamation with the Office of Community Partnerships to recognize #ArabAmericanHeritageMonth. pic.twitter.com/PVnCNQ5H3b

— Montgomery Council (@MoCoCouncilMD) April 5, 2022