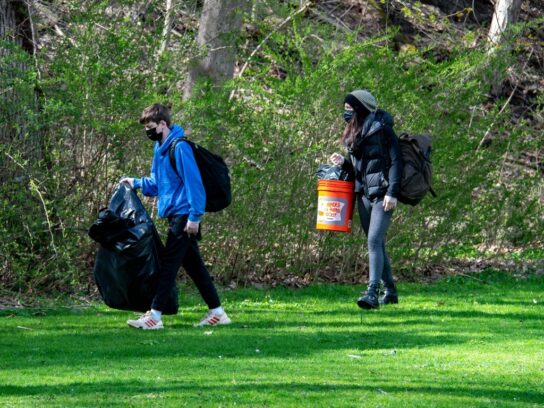 The Montgomery County Department of Environmental Protection partnered with One Montgomery Green to create the "MLK Plogging Challenge," according to the Montgomery Parks website. The term "plogging" refers to picking up litter while jogging or walking.
The MLK Plogging Challenge, a partnership with @OneMontgomeryG and @MyGreenMC, is one way to give back for MLK Day of Service January 15 to 22.

Pick up trash while walking or jogging, and keep track of the litter with a phone app.

Learn more: https://t.co/VGv56E00cA.#MLKDay pic.twitter.com/LcxTDJmz6n

— Montgomery Parks (@MontgomeryParks) January 13, 2022
Progress during the event can be tracked through the Litterati phone app. The event will last from Jan. 15 to Jan. 22. This event is one of many offered during the MLK Week of Service. Students who participate can earn Student Service Learning (SSL) hours.
The county emphasizes the importance of trash cleanup because Montgomery County is considered a watershed. A watershed is "an area of land that drains to a creek, stream, river, and ocean," according to the Montgomery Parks website.
Any trash or litter left lying around in Montgomery Parks can find its way to the Potomac, the Chesapeake Bay, and the Atlantic Ocean. The MLK Week of Service includes a parks cleanup series with several locations available for volunteering.
Here's a list of some places to volunteer during the holiday:
Jan. 15- Matthew Henson Trail (from Georgia Ave)
Jan. 16- Fairland Recreational Park
Jan. 17- Black Hill Regional Park
Jan. 17- Matthew Henson Trail (from Winding Creek Park) with Rock Creek Conservancy
Jan. 17- Takoma-Piney Branch Local Park
Jan. 17- Sligo Mill Nature Conservation Area
The full schedule of cleanup events and registration can be viewed here. Those looking to join the "MLK Plogging Challenge" can register online here.
Related Posts: