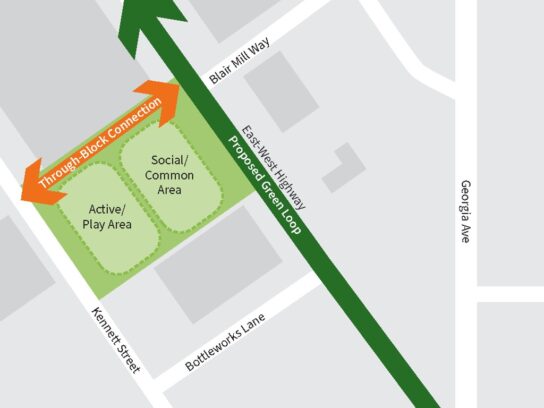 Montgomery Parks wants to hear from local residents about a proposed park for downtown Silver Spring.
South Silver Spring Park is proposed to sit at 1110 East-West Highway, formerly the site of a National Tire & Battery location. The park aims to complement nearby Acorn Park.
The new one-acre park will provide ample space for socialization, play, and recreation activities. The vision includes a multipurpose court for basketball, soccer, and volleyball; an exercise area; outdoor games such as bocce, ping pong, and corn hole; a playground and nature play area; and a community plaza and terrace.
The location of South Silver Spring Park would serve the diverse surrounding area, which is cut off from the rest of downtown Silver Spring by railroad tracks. The proposed park is described by project managers as a "critical walk-to public space for the community in this district."
The Silver Spring Downtown and Adjacent Communities Plan recommends the completion of the project to serve both the area and act as a walkable pass-through between East-West Highway and Kennett Street. The park will also offer a direct connection to the proposed Green Loop, which would connect the districts.
The property was purchased by the County from National Tire & Battery in late 2021, and demolition of the lot is planned for Winter 2022. Pending public input, South Silver Spring Park Phase 1 is expected to open as early as 2023.
Montgomery Parks invites the public to voice their opinions on the proposed park and its amenities via the Open Town Hall survey.