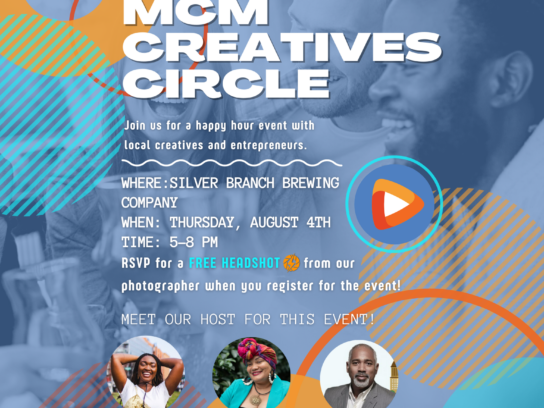 We invite you to join us at our first Creatives Circle Mixer—a networking event where creatives and entrepreneurs come out and connect.
We eagerly look forward to cultivating a space for DMV creatives to discuss the media topics that matter. Creatives will also have the opportunity to update their portfolios or resumes by taking a free professional headshot at the event.
Our event will be hosted by three local creatives: Enica Barnes, CEO of NeighborsDC; Khadijah Ali-Coleman, a cultural curator; Eric Peguero, podcast producer for ENS Media. Don't forget to RSVP.
Enica Barnes | NeighborsDC, CEO – Neighbors Diverse Community is a community-rooted pop-up and creative hive for small, local, and independent brands in the DMV and beyond. NeighborsDC shares space, network, and work to promote each other's businesses, all while offering opportunities for brands to thrive and grow.
Khadijah Ali-Coleman | Cultural Creator – Khadijah Z. Ali-Coleman, Ed.D. is a cultural curator, community organizer, nationally recognized speaker, and writer. A playwright, she has had more than a dozen of her plays presented publicly in venues throughout the country.
Eric Peguero | ENS Media, Podcast Producer – Eric is a U.S. Army veteran and a serial entrepreneur, who has spent the last 25 years working in sales, marketing, television, audio production, and website design. Eric loves sharing his wealth of knowledge. Known for producing professional-quality podcasts, websites, and supporting marketing content for his clients.
The mixer takes place Thursday from 5 to 8 p.m. at the Silver Branch Brewing Company, 8401 Colesville Road in Silver Spring. Check out their menu ahead of time in case you plan to purchase anything to drink or eat.
View this post on Instagram