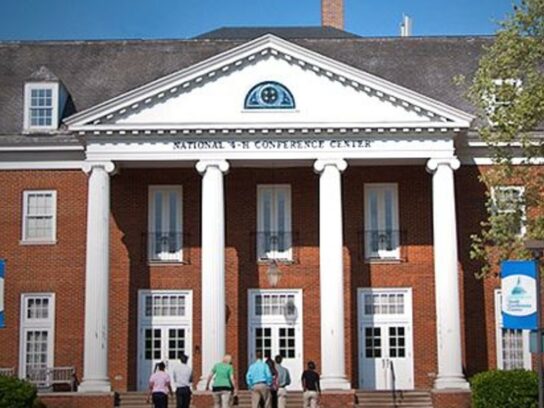 The National 4-H Council announced it is selling its Chevy Chase-based national conference center in March.
The council's decision to sell was due to the COVID-19 pandemic and the economic stress it has placed on the youth organization. The National 4-H Conference Center has been closed since March 2020.
"In 4‑H programs, kids and teens complete hands-on projects in areas like health, science, agriculture and civic engagement in a positive environment where they receive guidance from adult mentors and are encouraged to take on proactive leadership roles," according to the 4-H website.
4-H has owned the 12.25-acre property located at 7100 Connecticut Avenue for more than 60 years. Some alumni and community members seem dismayed by the recent news that the Chevy Chase landmark will be changing owners. Thousands have signed an online petition in favor of the National 4-H Council to change its mind.
4-H members: Keep the National 4-H Conference Center in the hands of 4-H members – Sign the Petition! https://t.co/WP5Qop9ZEP via @Change

— zoemarie musser (@zomuss) March 26, 2021
The upcoming transaction is a major undertaking for the Town of Chevy Chase as the 4-H property may be the last significant open space in the Bethesda-Chevy Chase area, according to the Town of Chevy Chase's press release.
In a briefing held on March 26 regarding the property, a brief overview about the sale's timeline was explained. 4-H plans to have all bids in by early May, the winning bid selected by June and the sale closed by the end of the year. The property is currently valued at $20 million and is being sold as is.
The 4-H council is currently taking bids from all sectors: private, non-profit, education, elder care and others. Montgomery County has also been asked to join the bidding process.
The National 4-H Council will continue to be located in the Washington, D.C. metro area.