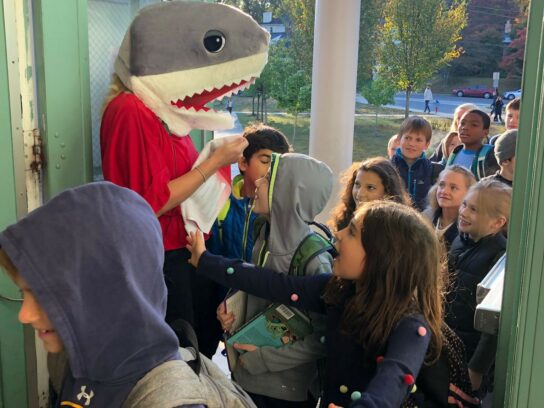 The viral children's song "Baby Shark" has become the Washington Nationals unofficial theme song over the past few months.
How did it happen? The Nats signed Gerardo Parra, the much traveled outfielder, in May. He was in an 0-for-23 slump when he decided to change his walk-up music. He chose the song as an ode to his two-year-old daughter, Aaliyah. It worked. Parra broke out of his slump and the Nats – who began the season with a 19-31 record – turned around their fortunes as well qualifying for a N.L. Wild Card and are now up 2-0 against the Houston Astros in the World Series.
Was it the song? Who knows? But if you ask superstitious fans, they would definitely say "yes". Now the "Baby Shark" theme is the Nats' anthem and has inspired fans to do some silly things.  
Students @StPetersOlney have the spirit. Let's go NATS! @ADWCathSchools #Nats #Nationals #FINISHTHEFIGHT #WorldSeries2019 #natitude pic.twitter.com/egtaeUJkfS

— Saint Peter's School (@StPetersOlney) October 25, 2019
https://www.instagram.com/p/B4DKYhklWSX/
https://www.instagram.com/p/B4DN5ItlslV/
Tonight … for the first time in 86 years … a #WorldSeriesgame will be played in Washington, DC. GO NATS! @TakomaParkMD is rooting for you.#STAYINTHEFIGHT #takomapark #tkpk pic.twitter.com/phEyVP3RXG

— TakomaParkMD (@TakomaParkMD) October 25, 2019
On his last full day off before the World Series gets underway, Gerardo Parra visited the Children's National Hospital yesterday, took pictures with kids, and signed Baby Shark gear for them. This is the good stuff. (Screenshot courtesy of the @Nationals Instagram story.) pic.twitter.com/PJFjH2pUsu

— Dan Kolko (@masnKolko) October 21, 2019
Go Nats !! Baby Shark sightings in Edmonton !! @WaltonCaps @JoeBpXp @Laughlin18 @Kevintv101 @arrdog1 @Nationals #WeAreGoingToNeedAbiggerBoat #babyshark pic.twitter.com/VSLJ6lHUTb

— Shut up Miller (@cap199798) October 23, 2019
Throwback Baby Shark approves! #Nationals #NatsNatsNats #WorldSeries #STAYINTHEFIGHT pic.twitter.com/mhXz0x3F6k

— Jeff Messman (@JeffMessman) October 24, 2019
Guess who came to greet our kids this morning? #Nats #Nationals #babyshark pic.twitter.com/O6BrvuEN2V

— Karen Cox @ Westbrook ES (@KarenMCox) October 24, 2019
https://www.instagram.com/p/B4DL8opjss2/?utm_source=ig_web_copy_link
🎵#BabyShark doo doo doo doo doo doo🎵 Our Parks, Rec & Culture staff have #GoNats fever! Go @Nationals! #STAYINTHEFIGHT #FINISHTHEFIGHT pic.twitter.com/8N4U1opJnu

— City of Gaithersburg (@GburgMD) October 24, 2019