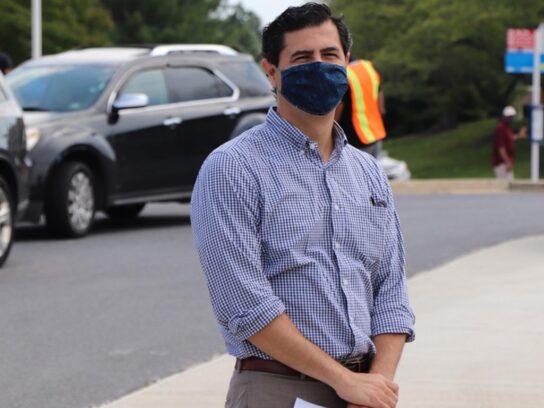 Homicides, car jackings, auto thefts and drug overdoses have all risen dramatically throughout Montgomery County in the past year.
There has been a 29% increase in homicides, a 136% increase in car jackings, "a significant rise in auto thefts" and a 45% jump in opioid overdoses, according to Council President Gabe Albornoz. The problems are especially acute in Downtown Silver Spring, he noted.
In the most recent incident, Montgomery County Police are investigating reports of a fight and shooting Monday at 2:30 a.m. at the 8000 block of Georgia Avenue in Silver Spring. Police responded to the Society Bar for a fight in progress and soon learned that shots were fired near by.
Five businesses in the area of Bonifant Street and Georgia Avenue were struck by bullets, police said. No one was injured or struck.
During his first media briefing as president, Albornoz called the rising crime rates "sobering" and said that many factors are involved. Efforts are being made by state and county officials, the Montgomery County Police Department and Montgomery County Public Schools to reduce crime, he said.
Some problems are easier to solve than others, Albornoz noted. Pointing to car thefts, he stressed that 80% of the incidents involved cars that were unlocked. Thieves tend to bypass locked cars, because they don't want to break in for fear of setting off car alarms.
"Eighty percent of car thefts can be eliminated simply by locking your door," he said.
The other problems are more complex. Recovering from the pandemic, mental health issues and morale within law enforcement as the county council strives to increase transparency between the police force and residents all must be addressed, Albornoz noted.
"We also know that law enforcement has been overwhelmed" and are having problems recruiting and retaining officers, Albornoz said, adding there is a morale problem throughout the ranks. Montgomery County "Police Chief [Marcus] Jones has been very candid, that he has never seen morale this low."
Albornoz said that the council is looking into ways to improve morale, from improved pay rates to tax incentives that would make it easier for emergency workers to purchase a home in the county.
Police have established a task force to target drug use in Silver Spring. The State's Attorney's Office in Montgomery County has created a Crime Suppression Task Force for the Silver Spring area.
"This is going to require a regional approach," Albornoz said, noting that crime is up throughout the region and nation.
"The council stands ready" to do what is necessary, Albornoz said.
Listen to his remarks from the Dec. 13 briefing.