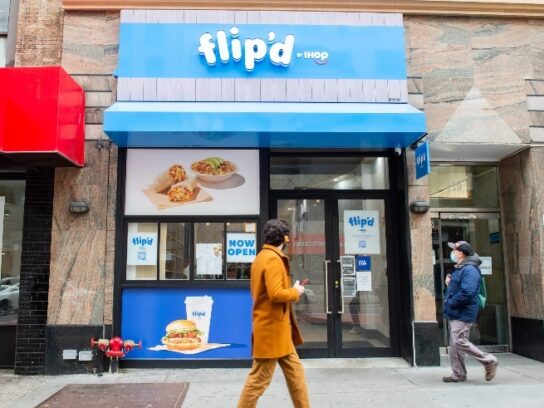 A new location of flip'd by IHOP – a subchain of the popular breakfast food restaurant – will open Tuesday in downtown Silver Spring, the company announced this week.
The franchise will welcome its first customers beginning at 6 a.m. The first 100 people in line will receive a free flip'd original pancake bowl, which includes four buttermilk pancakes.
flip'd is located at the corner of Colesville Road and Georgia Ave in downtown Silver Spring. The restaurant's location has been vacant since its predecessor, Asian Bistro Cafe, closed six years ago.
IHOP announced plans to launch flip'd in 2019 and the Silver Spring location will be its third franchise. There are two other flip'd restaurants in Lawrence, Kan. and New York City. A fourth location is set to open in Cincinnati, Ohio later this year.
Unlike IHOP, flip'd will not have servers and focus primarily on fast-casual, grab-and-go meal offerings. Customers will also have the option to order and pay at self-serve kiosks in the restaurant, a staple of other flip'd franchises.
In addition to traditional breakfast classics, flip'd will serve lunch and dinner options, including burritos and burgers. The Silver Spring location will be open from 6 a.m. to 10 p.m. daily.